The first blog post – or wait! My very first attempt at a blog post was actually as an invited guest, although I never told my host that…! I recently wrote a scientific paper about my current obsession in the field of animal behaviour management and was asked to present it to the readers of Dr. Sophia Yin's blog.
My current obsession, thanks for asking, is ways of preventing and reducing fear in animals visiting the veterinary practice. One such tool is to simply feed delicious treats to animals before, during, and after procedures, both as a distraction and to promote desired learning, or re-learning. Rather than learning that nasty things happen at the vet's, the animal learns that you get wonderful treats – this is called counterconditioning.
My problem was that vets I consulted with wouldn't dare use this technique in case they needed to sedate animals at any point. They would rather stay away from treats altogether – rather safe than sorry, as it were. From my horizon, it was a choice between two rather terrible options, or so it would seem. On the one hand: successful counterconditioning – contented animals that risk dying from complications associated with anesthesia. On the other hand: miserable and potentially dangerous animals that run no particular increased risk when sedated.
Neither option was particularly enticing. But – were those the real choices? I set out to find out and ended up publishing a paper in the Journal of Veterinary Behaviour.
Surprisingly, I found nothing in the scientific literature supporting the decision to stay away from treats – I could even argue the opposite: it might be more risky not to use counterconditioning before sedation. Sedation is always a risk, but there's nothing to indicate that it would be riskier to feed – if you do it right.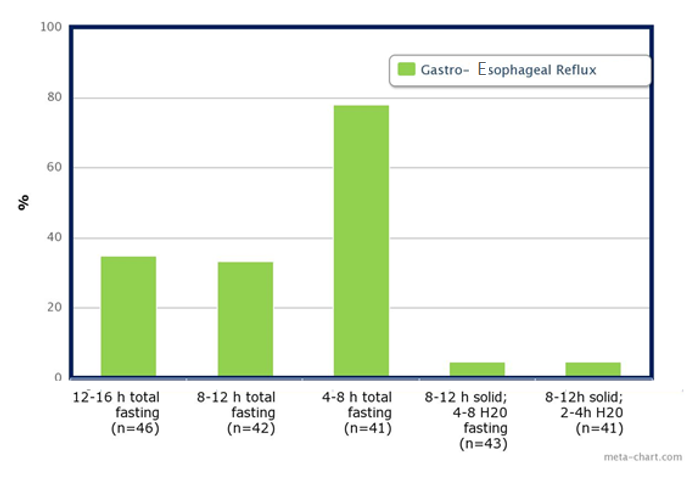 This data illustrates the risk of reflux (GER: stomach content getting back up in the food pipe) as a function of fasting time in dogs. There is no apparent relationship between how long the animal has fasted and how big the risk of GER is. Indeed, the lowest risk of GER is seen in dogs who have received water up to 2 hours before anesthesia.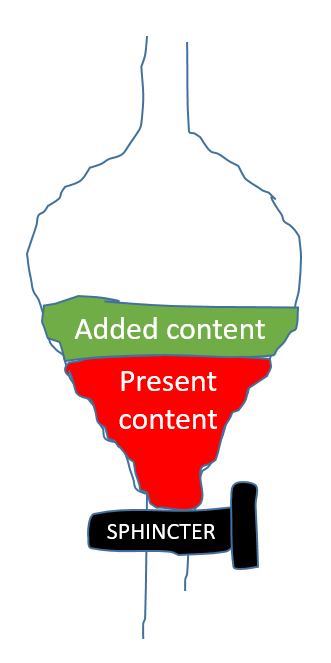 Still, if the animal regurgitates, things could get really serious if gut content ends up in the lungs – Aspiration Pneumonia (AP) could set in. But stomach content volume depends both on how much was in the stomach to begin with, how much is added, and what is going on at the lower end – is the sphincter releasing  stomach contents to the intestines?
It turns out that if you're not treat feeding, most animals (about 80% in dogs) get stressed at the vet's. One of the most well documented effects of stress is that it inhibits gut motility, so whatever was in the stomach is likely to stay in the stomach if the animal is stressed. In contrast, if you're successfully counterconditioning, gut motility should be up and running. If you're feeding small amounts, it could be that the stomach is actually emptying faster than it's being filled.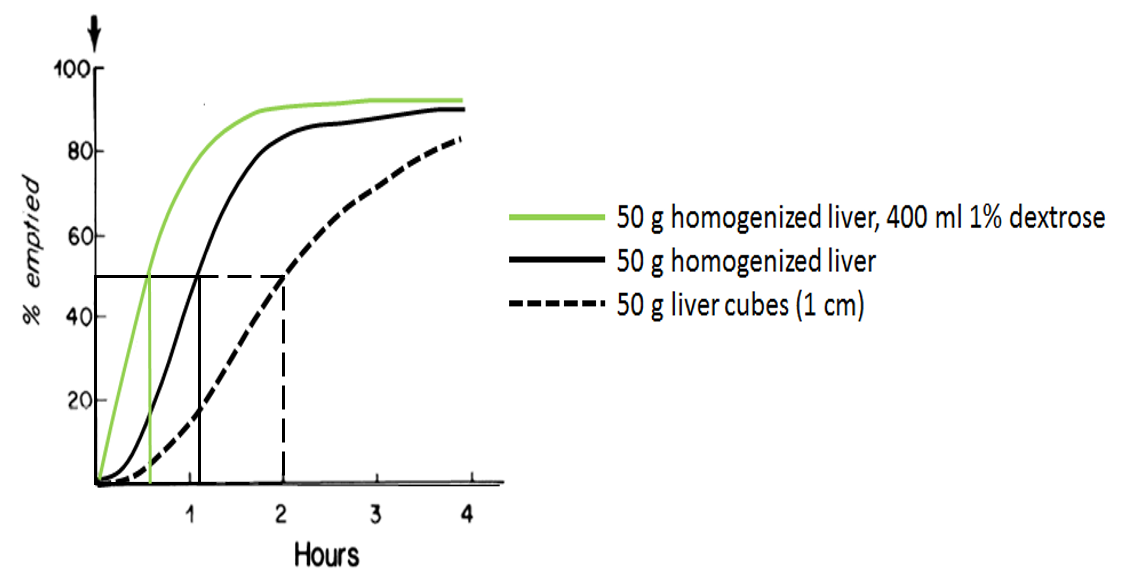 The choice of treats will impact how quick the gut passage is. Half the content may be emptied in 2 hours, just over one hour or in about half an hour depending on whether a dog has been fed liver cubes, homogenized liver or a rather large suspension of homogenized liver.
So, to summarize: if you're using small amounts of a fluid treat to reduce fear in the veterinary clinic, there is no reason to assume that there is an increased risk of Aspiration Pneumonia (AP) if the animal needs to be sedated. Potentially, the opposite is true: if you don't address fear, there might be an increased risk of AP.
… I realize this line of reasoning is hypothetical, at this point. No-one has examined effects of counterconditioning using treats on the risk of AP. What are your thoughts? Leave a comment below!
I teach about behaviour management – if you're interested in learning more, sign up to get info about blog posts, free webinars and courses:
References:
Hinder & Kelly, 1977. Canine gastric emptying of solids and liquids.
Shiun et al. 2006. Preoperative fasting in dogs.
Westlund, 2015. To feed or not to feed – counterconditioning in the veterinary clinic.