This post is part of a series on addressing animals' fear in the veterinary clinic.
Why feed treats? The technical term is counterconditioning (CC), and it's about feeding fabulous treats in order to reduce fear.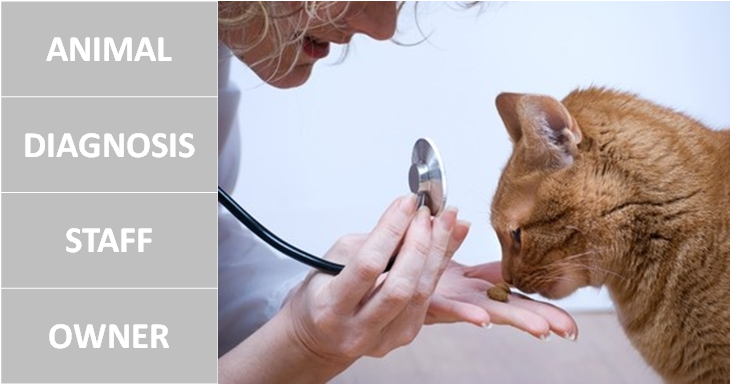 Contrary to what many vets have assumed, there's no evidence to indicate that it should be riskier to feed treats with the purpose of reducing fear in animals about to undergo sedation. There may be other reasons to avoid treat feeding, but that one is seemingly not valid.
Habituation (simply grabbing the animal and getting on with it, hoping he'll get used to it) is slow, unreliable and risky. Rather, gradually introducing potentially aversive stimuli using systematic desensitization (SD) is less unsafe. The combined procedure (SD/CC) is more efficient than either procedure (SD or CC) alone.
So, should you feed or not? What are the advantages? What are the potential disadvantages?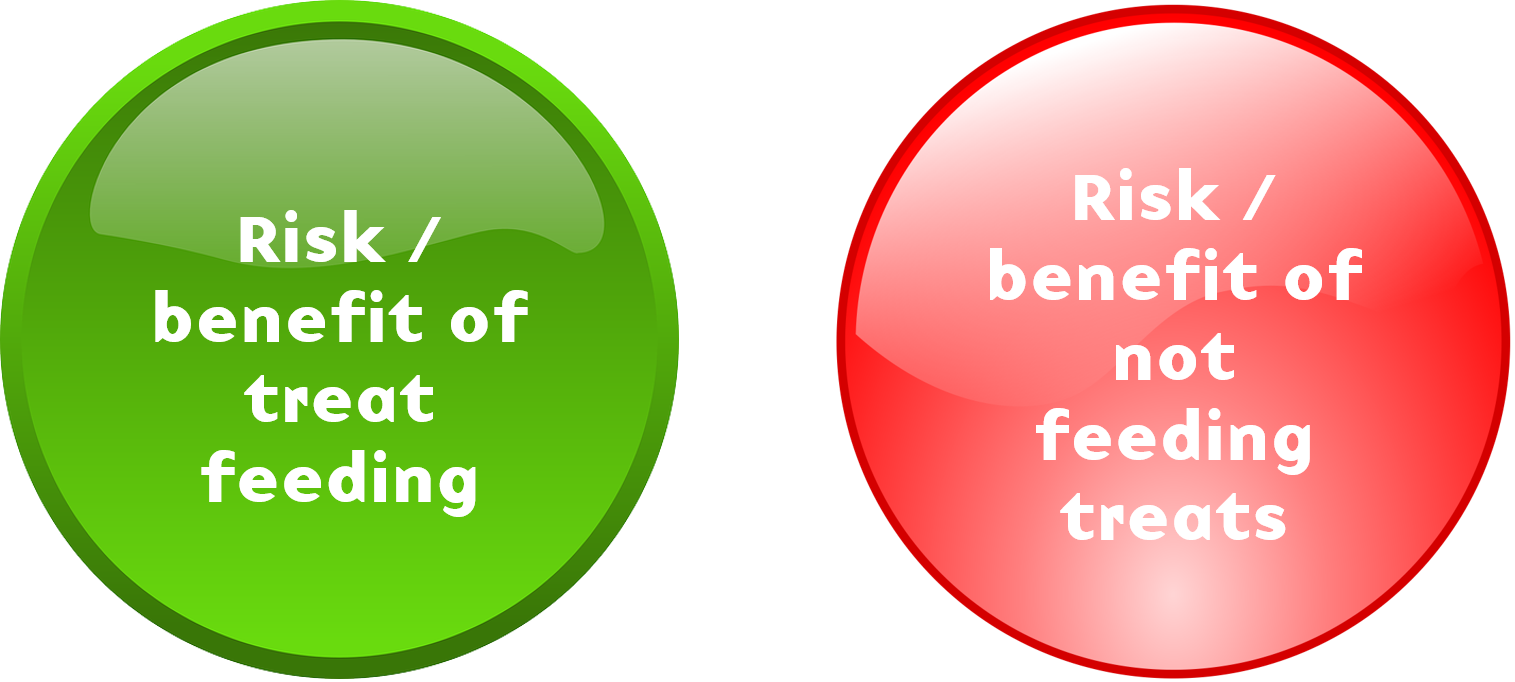 There are mainly advantages of using SD/CC in the veterinary clinic, and mainly disadvantages of not doing so. I propose that there are at least 4 robust reasons why you should feed treats to reduce fear in the veterinary clinic, with regards to the animal, the diagnosis, the staff and the owner.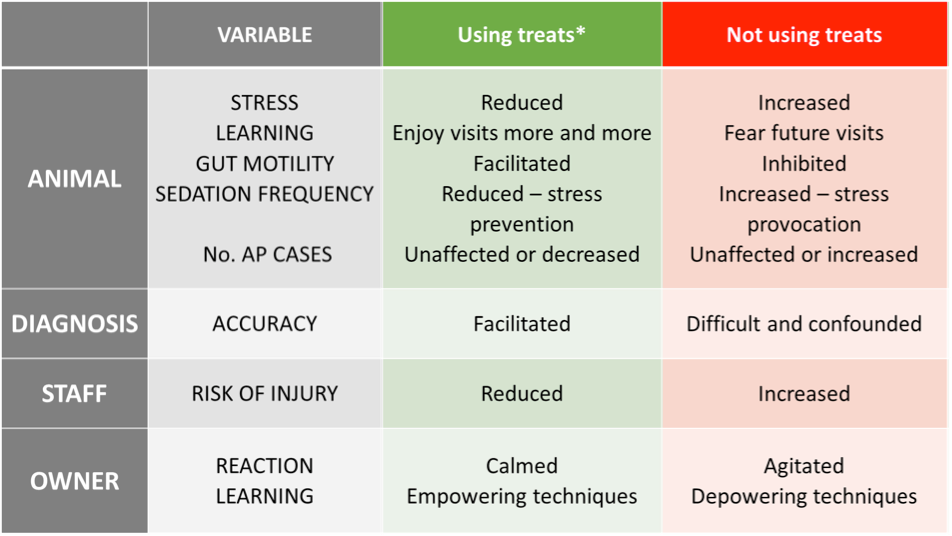 The animal.
If you or the vet are not consciously trying to prevent or reduce fear, all the available evidence suggests that the animal risks becoming more stressed on subsequent visits.
Vets often avoid treat feeding during consultations because they fear Aspiration Pneumonia if they need to sedate the animal. Hypothetically, there could be an increased risk of Aspiration Pneumonia (AP) after sedation if the animal's stress levels are high – though this hasn't been studied. In contrast, using treats to actively prevent or reduce fear through SD/CC should have opposite effects.
Small amounts of fluid treats shouldn't increase the risk of AP.
The diagnosis.
When animals are stressed, their bodies respond with a series of complex short-term physiological reactions. Some of these may be mistaken for diseases that cause similar physiological reactions.
For instance, stressed cats are sometimes misdiagnosed as diabetic.
Also, if you're successfully counterconditioning, animals become more manageable, easier to examine and diagnose, and such confounding effects may be reduced.
The staff.
Most veterinarians, vet techs and animal caretakers have been scratched, bitten or kicked by animals attempting to get away from an aversive situation. By using SD/CC, the risk of defensive aggression is reduced.
Not only may the staff be less exposed to physical risks, low-stress handling including treat feeding means animals will be more cooperative, and staff will less often have to resort to some form of manhandling in order to properly examine the animal – and this may be a source of psychological stress for the person doing the manhandling.
One important finding from a 2017 survey conducted on Fear Free certified professionals was that 80% of contestants reported improved job satisfaction.
The owner.
Some 58% of cat owners and 37% of dog owners say their animal hates going to the vet's.
So, many animal owners avoid taking their pet to the vet, and the very thought of doing so makes 38% of cat owners and 26% of dog owners anxious.
Using SD/CC can have tremendous effect on both the animal – and the owner. For one, they might be less hesitant to bring their pet to the vet.
Additionally, the owner can learn useful techniques that may be used to reduce fear in other situations.
Conclusion.
Feeding treats at the vet's is not pampering the animal. It reduces stress in the animal – and owner.
It reduces hazards to staff involved in handling animals.
Diagnosis is facilitated.
Finally, what are the alternatives? If staff are manhandling the animals to examine them properly and carry out procedures, owners may copy this behaviour in other situations which may impact the animal's welfare down the line, in addition to all the problems listed here.
Exceptions? Yes. There will be situations where treat feeding is not advisable for medical reasons, but some of the risk associated with sedation is unfounded.
The reasons why animals vomit when sedated is not because they've eaten, it's because they're given anesthetics that make them vomit. Choosing another anesthetic should diminish the risk of vomiting, although, as one reader pointed out: all medications have side effects and the pet's own physiology and health must guide the choice of sedative.
… Do you agree? If not, why? Let us know in the comment section below!
***
I give online courses on the topic of animal behaviour management, publish the odd blog post and give free webinars and masterclasses. Wanna be notified whenever any of those things happen? Sign up below!
References:
Rand et al., 2002. Acute stress hyperglycemia in cats is associated with struggling and increased concentrations of lactate and norepinephrine.
Volk et al., 2014. Bayer Veterinary Care Usage Study.
Westlund, 2015. To feed or not to feed – counterconditioning in the veterinary clinic.