Revised August 2021.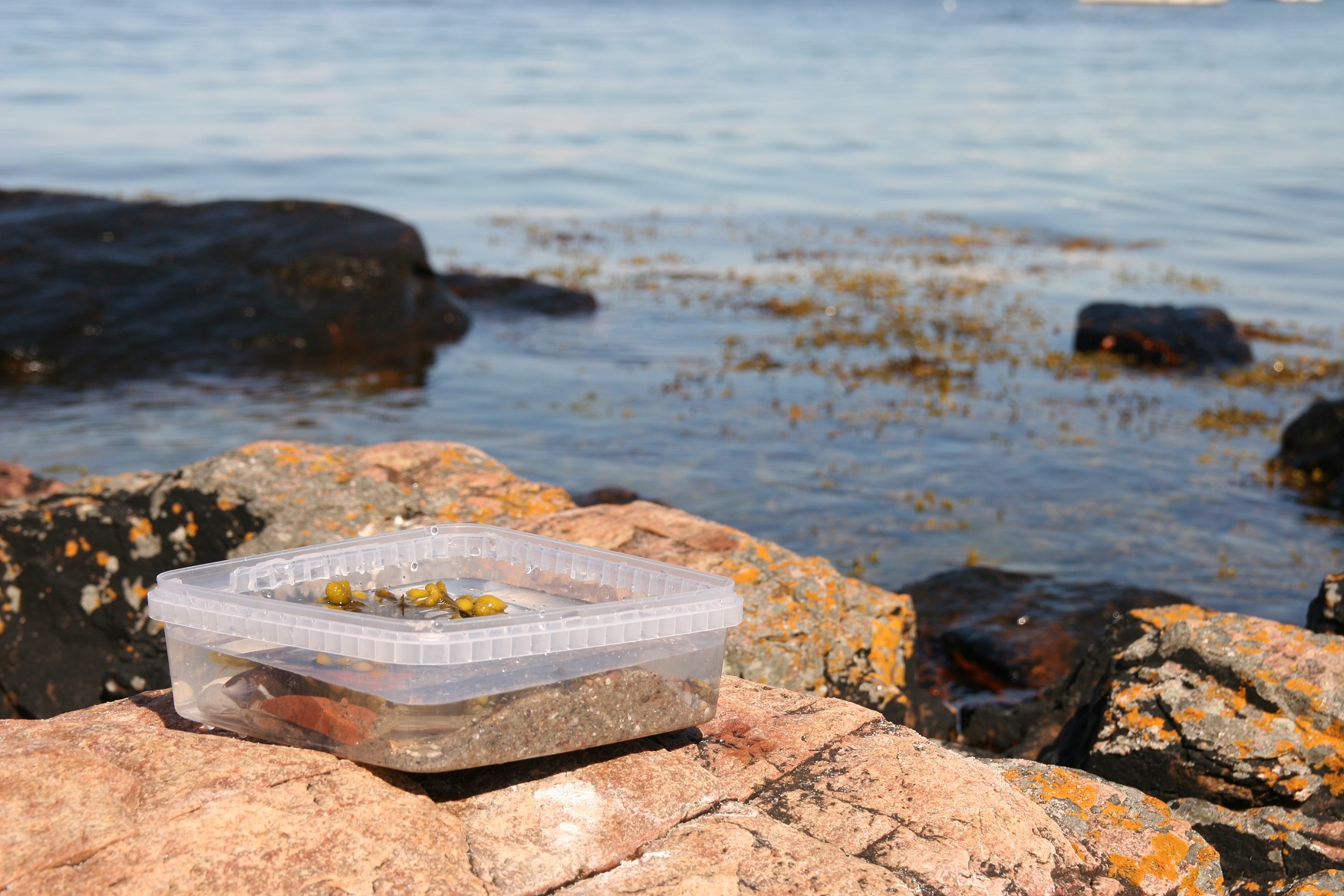 I wrote this blogpost a couple of years ago, after a summer when I revisited a childhood paradise, Hallands Väderö, an island on the west coast of Sweden.
As a child, I used to catch small shore crabs there, and get a terrible sunburn. I'd spend six hours crouching on the shoreline, with my back to the unrelenting Scandinavian sun.
No sunscreen.
No protective tan. Just very pale, sun-sensitive skin that I've inherited from my freckled red-headed father. Those were the days, when nobody knew about melanoma, and having a deep tan was the height of fashion.
Side note: Over the years, I've learned to avoid sunburn (I no longer harbor any illusions of achieving a nice tan, wear sensible long-sleeve clothes, avoid direct summer sunlight between 11 and 15, and wear sun screen lotion if I can't avoid it).
But I've maintained that passion for catching shore crabs, or green crabs as you might know them by – they go by the latin name of Carcinus maenas. And that summer, I had my kids along, and they'd inherited my fascination with these little critters.
In case you're wondering: this blog post is not going to be a nostalgic walk down memory lane. Rather, it's going to be about discovering that the lane you're walking on is no longer a place where you want to be.
I'll also encourage you to look at the lanes that you're walking on. The habits you learned as a child, and that you're still holding on to – but maybe it's time to let go of.
And, in case you're not in the mood for philosophy, this post also gives some pointers about what to consider when preparing an enclosure for an animal, regardless of which species we're talking about.
OK, let's get back to those crabs.
How to catch shore crabs
If you're unfamiliar with manual shore crab fishing, there are basically two techniques to catch them:
You lure them with bait. Stick a piece of something edible to a string, submerge it so they can access it, and when they climb onto the bait, you carefully and slowly pull them out of the water. They often jump or fall off at some point, but typically eagerly climb back on (the "climb back on" is important information, as will be discussed later).
You remove their shelter. Carefully lift a number of small rocks until you happen to expose a hiding baby crab. Grab the tiny critter before it sprints for cover or burrows in the sand, and hope you don't get pinched.
I'll return to some ethical reflections about those techniques later.
Most people go for the luring method, it's safer (especially if you're using a net once they're out of the water), and the fishing is done in deeper waters so the crabs are bigger. The shelter-removal method only works in less than knee-deep water (deeper than that it's difficult to see the tiny crabs since they tend to be a lot smaller).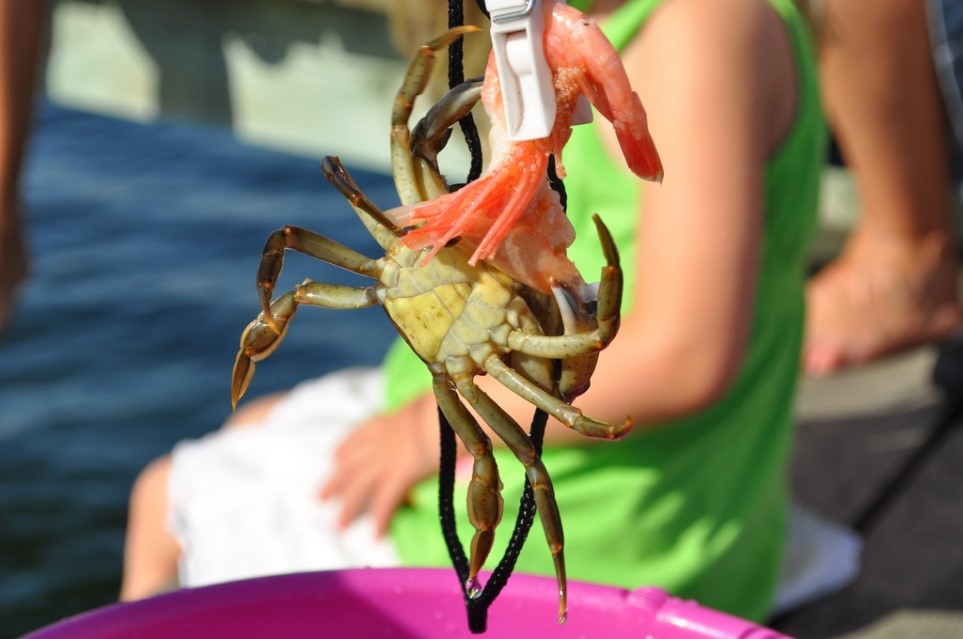 Once the crab is caught, most people keep them in a bucket of sea water while the fishing session lasts, and then let them back out again. They're too small to eat, anyway.
I've caught more crabs than I can remember. And without much thought, I've put them in buckets for an hour or two, sometimes piling them up in droves.
Let's take a moment to reflect on that. In my cultural upbringing, piling shore crabs in buckets for up to a few hours, is the norm.
It's a habit that's ingrained in us, passed down through the generations.
"Everybody" does it.
Is there a problem with this?
Why piling crabs in buckets of sea water now bothers me.
For me, it didn't use to be problematic.
I didn't cause them any intentional suffering, I changed their water to keep it fresh, I often fed them in the bucket, I let them out after a while.
It didn't use to bother me.
But this time, I had a different experience.
This time, I've spent the last year blogging and teaching online classes about animal behaviour management and animal welfare. Often with an ethical twist.
I've questioned the use of dog collars, whether dogs aren't perhaps weaned too early, and whether hyperflexion in horses should be considered abuse. I've argued that we should assume that animals have emotions, if only because that makes the world a better place.
So, I've been rationally reasoning about topics related to animal wellbeing.
And yet I've always piled live crabs in a bucket of seawater without much thought to their welfare.
Actually, I carried on the legacy and have taught my kids to pile live crabs in a bucket of seawater.
So what, you might think.
They're just crabs.
Crustaceans.
It's not like they're dogs or horses.
Here's the thing. With mammals and birds, we humans tend to get emotionally involved. We care.
But with regards to shore crabs, we typically don't get the same emotional sensation of connectedness and engagement as we do with mammals or birds – there's no limbic resonance. We might find it fascinating to watch them scuttle about, but most people don't care, on that fundamental emotional level. Some do, for sure, but most people do not.
Not the way I cared about Lodde the harbor seal whom I had just met moments before this film was shot.
Playing with the harbor seal Lodde at Odense Zoo, Denmark. This playful interaction involved a powerful emotional connection, at least on my part, due in part to limbic resonance. Note that Lodde initiates the movements, and I follow: giving control to animals often leads to higher engagement.
So, apparently, on an emotional level, shore crab's potential suffering, or whether they're having a bad day, hasn't concerned me much. But this time, I couldn't bring myself to piling them in the bucket.
There was a new, nagging concern there. A rational concern, not an emotional one – I simply don't get that limbic connection to those tiny critters.
The interesting question isn't really whether I should develop an emotional connection with crabs. Jeremy Bentham said, sometime in the 1800ds, that the relevant ethical question is not whether animals can reason or talk, but whether they can suffer.
To reinterpret that with regards to shore crabs: the relevant question isn't whether we care, it's whether they can suffer.
On the island, when my rational mind started making objections to crab-piling, I wasn't aware of the latest research. But it turns out that as recently as in 2005, whether crabs and their relatives could suffer was unclear to scientists. In later years, the evidence suggests that they can. Apparently, shore crabs show avoidance learning, and they choose to expose themselves to aversive stimuli to access valuable resources – but they won't do it to get access to resources of less value. They have a suitable nervous system for pain awareness, including opioid receptors, and respond to analgesics and local anesthetics.
So, while at the island, I didn't know about the recent scientific findings, but I had a major mind shift about how to go about crab fishing. Specifically, about how they're kept in the bucket (or in this case, the container that we'd brought our lunch in).
The container may hold sea water, but it's pretty far removed from their natural habitat.
So I decided to offer them a better option.
I decided I wanted to show my kids a better option. After all, learning to empathize will shore crabs (where there's no limbic resonance) will probably make them more caring with other animals – and other people (where there is). And thinking rationally about animal wellbeing, in addition to emotionally, is another useful exercise, for kids and adults alike.
The shore crab aquarium.
So, how do you go about creating a suitable habitat, for any animal? I talk about some key features of a good habitat, or enclosure, in my senior lecturer's exam lecture, which you'll find free access to here, but the principles are the same, regardless of the animal species.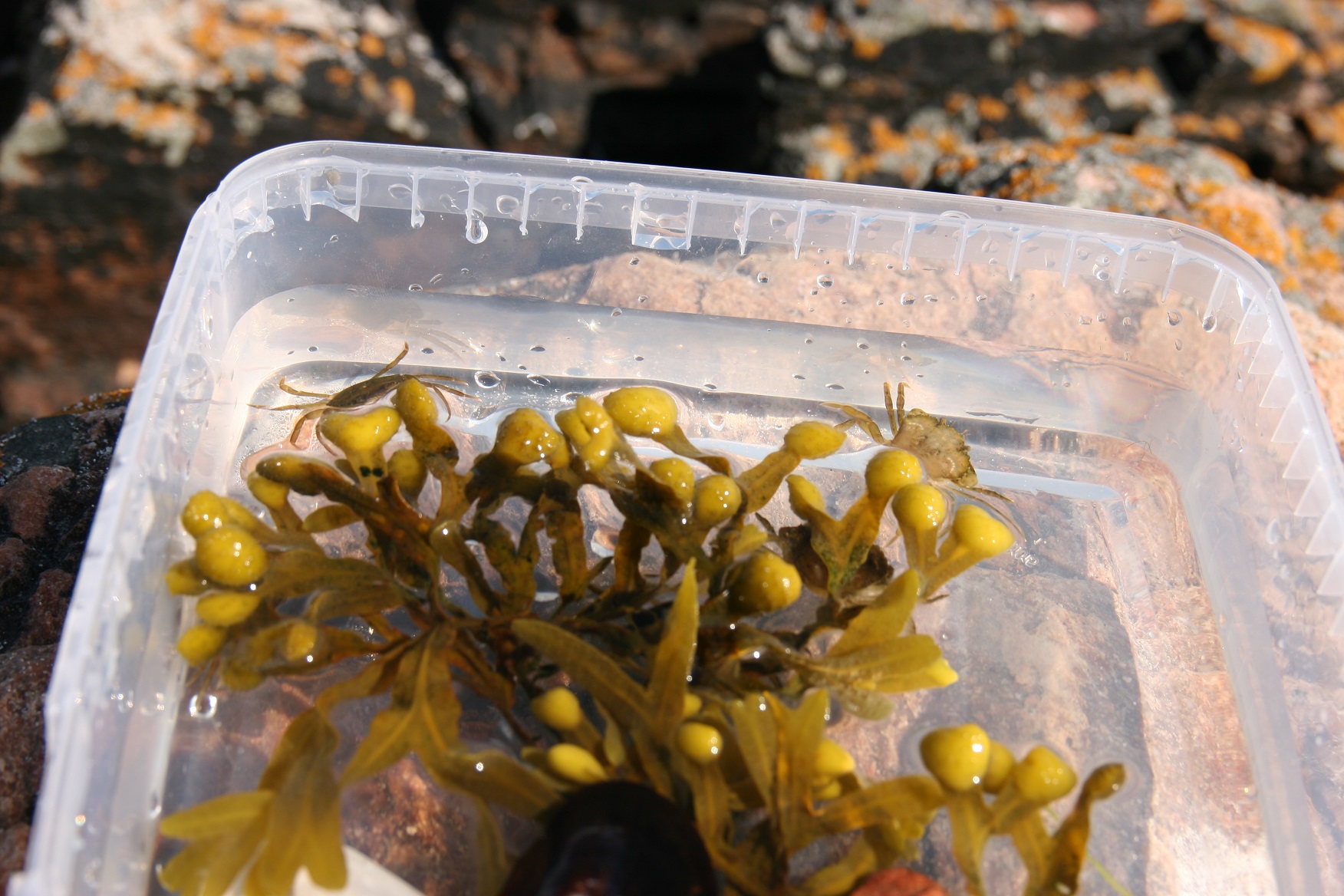 I have no idea whether shore crabs experience the subjective emotion of fear in the same way that we do, but they show the characteristic freezing and fleeing behaviour that we associate with fear in mammals. An important part of habitat creation is to make sure that there are opportunities for the animals to perform behaviours to reduce, or avoid, fearful responses:
Shelter
Several escape routes
Access to vertical space
Not all animals have the same preferences, so here's another important design feature you may want to keep in mind, whether you're furnishing for cats or crabs:
Likely, you'll find that some of the crabs climb the sea weed, some take refuge under the sea shell, and some hide under rocks. The opportunity to choose is crucial in promoting animal welfare.
Finally, adding some sand allows them to burrow. In this group of four, only one of the crabs chose that option.

As an ethologist, I typically have three priorities when it comes to aspects of the physical habitat that impact animals' welfare:
Their social environment
Foraging opportunities / time budgets
Opportunities for anti-predatory behaviour
Among mammals, different species form different types of social groups. Some are solitary, others form pairs, or groups containing one or more males. Knowing natural group structure is very important in predicting which group constellations are going to get along in captivity.
How about shore crabs? From what I can tell, they don't form social clusters, unlike the clustering seen in hermit crabs. I sometimes see many crabs in a small area, but I interpret most social behaviour as aggressive or competitive. In this group of four, there was no fighting, but I'd expect that to occur above some threshold density.
So, from the social perspective, I'd avoid adding too many crabs to the aquarium, and I'd be careful about adding food. Studies have shown that they fight more if food is present. Here's the dilemma, though: feeding may on the one hand potentially be beneficial since it might serve as a type of counter conditioning procedure: being caught by humans and put in a small container predicts great things . On the other hand, it may exacerbate the aversiveness of the holding area if it leads to aggression over defendable resources. Feeding in several locations would probably diminish the risk of aggressive behaviour, though.
This particular shore crab aquarium was short-lived, about half an hour, so thinking about time budgets (that the relative frequency of behaviours shown match what animals would do in the wild), or foraging opportunities, was not a big issue. That's a huge concern for animals kept in human care on a permanent basis, though.
***
That day at the island Hallands Väderö, I had the uncomfortable realization that I didn't like how I'd been handling crabs all my life. Since then, and it's now been several years, I actually haven't caught any; much of the allure was lost when I started thinking more about how the capture-and-holding process might impact the animal's wellbeing. My thoughts are that the lure method gives the animal an element of choice and control which is lacking in the shelter-removal method, for instance. The fact that they typically eagerly climb back onto the bait (normally even in the bucket) suggests that there's no avoidance learning going on.
The take home message isn't what you might think it is.
In case you're thinking that the main take-home message from this blog post is about how to accommodate shore crabs while teaching your kids about animal wellbeing: it's not.
It's about how our cultural upbringing blinds us to ethical problems. A type of cognitive bias. It's about how if everyone else is doing something, we don't question it. It's about how we engage emotionally in some types of animals (typically furry ones with big eyes and floppy ears) and not others, and it's about the usefulness of sometimes trying to be rational in order to reassess what you're doing to animals that you don't relate emotionally to.
This time, I took a look at my crab-fishing behaviour, and I didn't like it. So I changed it. And I taught my kids an important lesson of empathy and rational thinking, too.
Have you ever done the same, breaking with norms you grew up with, and changing how you interact with other animals?
I bet you have. I think we're all treating animals differently now than we did 10 years ago.
And here's the difficult question:
What will you do differently 10 years from now? What are you doing now that you won't like, and change, in the future?
Do me a favour, will you? Don't wait ten years.
I know it's uncomfortable and hard, but change today. The animals that cross your path now, and in the future, will thank you for it.
***
I typically don't discuss shore crabs but ponies, poodles, pigs, parrots and people. One step towards changing your behaviour and relationship with animals is understanding more about emotional states in animals and how they impact their personality, brain development, social skills and stress sensitivity. If you're ready to take that step, you may want to check out my course about animal emotions. Enrollment is only open for a brief time every year, and if you sign up below I'll make sure you won't miss the announcements and free trainings.