Separation anxiety, or to be more precise, separation-related problem behaviour (not necessarily caused by anxiety), is common in dogs.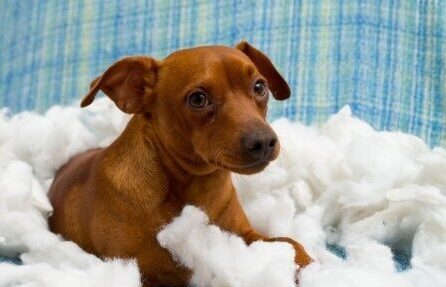 What do we know about this phenomenon? Which dogs show it, and when?
What can we do to prevent, reduce or eliminate it?
As you know if you've been reading this blog for a while, I'm not a dog person. I haven't lived with this problem, I haven't worked personally on such topics.
But, in 2016, I interviewed my friend Eva Bertilsson, who as it so happens did her Master's thesis on the subject. You may recognize Eva's genius from Carpe Momentum, as a level 3 Tag Teach instructor, a Clicker Expo faculty member, or perhaps from her old days as an Agility Pro (gold medal in the Swedish Championships).
This interview has been a part of the content offered exclusively to the students of my Animal Emotions course, but I decided to share it with the readers of this blog!
This audio interview is 35 minutes – just press the little orange button at the top left of the image below to start listening.
(Yes, that's me (left) and Eva (to the right)! We're wearing these goofy smiles because we were on our way to the first ever Tag Teach Summit, in Verona. Crossing the river on an old stone bridge, as I recall)
Here are the main points that we cover in our discussion of Separated Related Problem Behaviour (SRPB):
Which types of behaviours are typically shown
Which types of dogs show them
The types of events that trigger the onset of SRPB
Whether single-household dogs or multiple-household dogs show them
Types of treatments and their outcomes
Decoupling triggers from leaving
Systematic desensitization and counter conditioning
How well people follow instructions – which instructions are followed, which are not
Medication and what we know about how well they work
How making changes to the environment may help
Limiting space – using crates. Is this useful?
Why dogs develop SRPB
Is SRPB due to boredom or loneliness?
Eva's own experimental study
Eva's results that open up new possibilities for prevention/treatment
Eva's recommendations on how to prevent SRPB – and what not to do
Environmental design and enrichment
If you don't have 35 minutes, here's a transcription of our conversation.
And if you'd like to read Eva's finalized Master's paper, here it is!!
Finally, this discussion prompted me to question and discuss whether we separate dogs too early from their moms.
The interview was made in 2016. What's happened since then – what potentially effective treatments have been found? A quick search of the scientific literature gives this:
Petting a dog immediately before a short separation reduced heart rate, and dogs displayed calmer behaviour while waiting for their owner's return.
Oxytocin could potentially be used to treat separation-related problem behaviour (SRPB), but it hasn't been evaluated yet.
The owner's odor, and voice, can potentially help manage SRPB.
Separation anxiety is more common in breeds that were developed to cooperate with humans than in breeds whose main task is to work independently.
It seems that dogs are generally not helped by having other dogs in the household, but there is some evidence that the presence of a cat may help (I heard this on the Animal Training Academy's podcast with Malena Demartini)
Have you successfully reduced or eliminated separation-related problem behaviour in your dog? Please share with us in the comments' section what worked – and what didn't!
***
I give online courses about how to get happy animals that are reasonably well behaved and thrive with people. Want to be notified whenever those courses are open for admission? Sign up below, and I'll also keep you posted on whenever I offer a free webinar or publish new blog posts!
References:
Mariti et al. (2018). Effects of petting before a brief separation from the owner on dog behavior and physiology: A pilot study.
Shin & Shin (2016). Evaluation of effects of olfactory and auditory stimulation on separation anxiety by salivary cortisol measurement in dogs.
Thielke & Udell (2017). The role of oxytocin in relationships between dogs and humans and potential applications for the treatment of separation anxiety in dogs.