In 2017, I held my senior lecturer's exam lecture (docentföreläsning).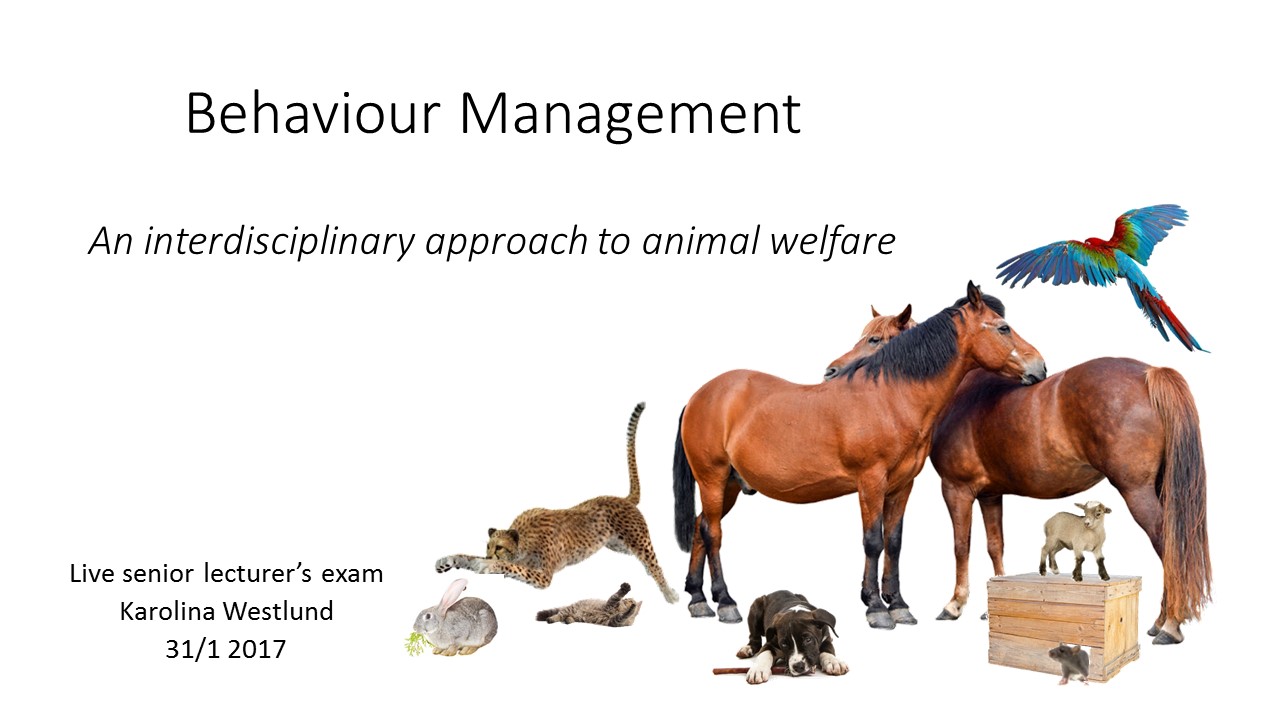 It was a 45 minute long lecture, where I introduced the concept of behaviour management and how that relates to animal welfare.
Behaviour management is a melting pot of different perspectives, theoretical frameworks and practical, hands-on techniques. I know, I was in over my head trying to discuss something so diverse in under an hour.
Anyway, I filmed it.
I'm guessing you probably don't have time for a 45 minute lecture. So I divided it into four pieces, thinking that might increase the likelihood that you'll at least get started.
Scroll down to find all four parts of the lecture!
Part 1 – what is welfare?
Here are the first seven minutes where I talk about how different people prioritize different animal welfare perspectives. When you watch it, think to yourself: "Which of those three welfare perspectives would I vote for?"
Let us know in the comments where you cast your vote! If you find the choice difficult, get some more insight here, where you get to choose which cat to save…!
So, there are three perspectives from which we can manage behaviour to improve animal welfare.
Part 2 – applied ethology
Arranging the environment to allow animals to carry out natural escape-related behaviours – and reducing aggression.
Part 3 – the impact of emotions on welfare
In part 3, I introduce the seven core emotions and focus on one that I think has a huge impact on animal welfare. There are two huge potential problems when animals become fearful – and two solutions.
In this lecture, I didn't have time to go into much detail on any of the topics – there was a strict 45 minute limit. If you want to learn more about emotions, check out my low-priced introductory course The Fundamentals – handling emotional states in animals. According to one of my students, that course was truly something every animal owner should know.
Part 4 – using training to improve welfare
There are three different learning mechanisms we can tap into to reduce the risk that fear becomes a problem for animals: latent inhibition, counter conditioning and systematic desensitization.
Did you learn anything useful from this lecture? If so, please share it!
***
This was a live lecture, but most of the teaching that I do nowadays is online. My courses go deep into the subjects I touched on in this lecture – but they're only open for admission for a short while, typically. Sign up below to get notified – and I'll also keep you posted on free webinars and new blog posts!