The world of animal trainers is divided.
You might not be aware of that rift, but it's there. It took me some time to catch on to it, myself. Basically, there are two animal trainer camps, and they're hardly on speaking terms.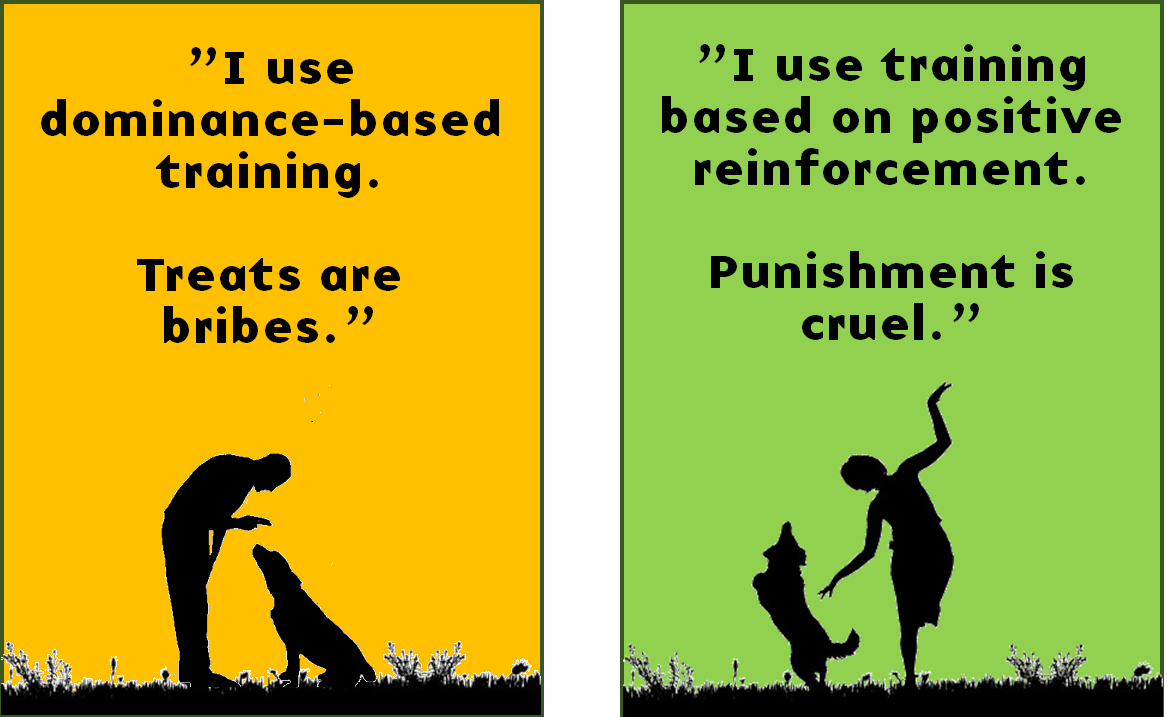 Actually, there are at least two camps. Camps within camps, perhaps, even. It's not the purpose of this blog post to define or analyze all the potential animal training fractions, however.
My guess is, as you look at that image, you agree more with one of those stances than the other.
Am I right?
So what? What's the issue with camps? You may ask.
Well, I see two problems with this infected split in the ranks of animal trainers:
Some people waste a lot of time being annoyed, feeling resentment towards, or even verbally attacking the other camp, although perhaps the death toll is low.
Think of all the great things we could be doing instead!
Animals' welfare is reduced because some animal trainers are using suboptimal techniques. In my opinion, some animals are suffering or having to be euthanized either as a result of unfortunate training choices, or because better solutions were not investigated.
I think we can all agree on that, even if we may not agree on which training camp is the better one.
Yes, I'm leaning heavily towards one of those camps, but I'm not an extremist. However, the main objective of this blog isn't to convince people to join my side.
Rather, it's about how to bridge the gap and start communicating.
I think that we can learn something from everyone, including people from the other camp – so my purpose with this post is for us to open the doors and start a dialogue.
I think that by reducing the animosity and saying hi, people in both camps may feel better and pay attention to how their training choices influence their animals' welfare.
That's an important first step, win-win, regardless of whether anyone converts.
Anyway.
So.
Here's the thing.
The reason I'm writing this.
I just attended the 2nd Animal behaviour and training conference (Woof! 2017) where many of the presenters discussed this unfortunate situation, adding several perspectives. This got me thinking, and I had some ideas that I felt were worthwhile to share.
As you can guess from the number of exceptional speakers and the thought-provoking content that they shared, some of which you'll find below, Woof! was a great conference. Not to mention it's the only conference I've attended where there was a spontaneous conga line dancing through the room in between presentations.
I saved a video spot for the conga-dance here in case someone filmed it and was willing to share, but then I realized that not everyone would be comfortable showing their goofy dance moves to the world, not to mention that GDPR would have a fit. So, you'll just have to imagine it.
Below I'll paraphrase important concepts shared by some of the presenters, and bring their ideas together. They did not speak in the order presented below, and often their main topic was about something altogether different. I may have misunderstood some of what they said; if so I do hope someone will let me know..!
What we're doing and why it's not working
Conference organizer Chirag Patel (Domesticated Manners) said:
"Don't punish the offering of information."
Both camps are guilty of this. We explain our stance in a somewhat annoyed and condescending tone of voice, and the reply is some variation of "yeah, but..!", and then the other proceeds to explain how wrong our technique or attitude is.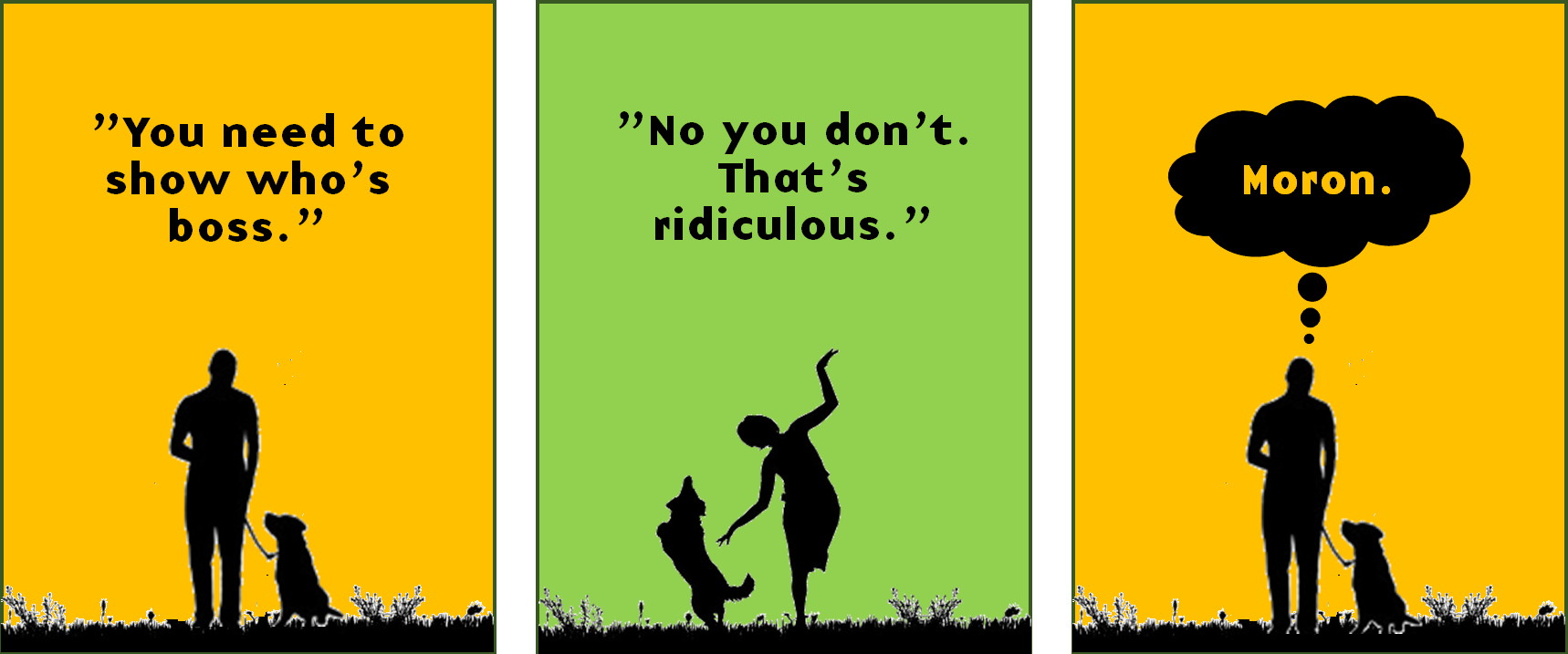 The problem with this approach is that it shuts down further communication. Barriers go up, and the true exchange of information is over before it even began. Both sides walk away convinced that the other is wrong, having learned nothing.
So berating the other is out. What to do, then?
How to change someone's mind
Susan Friedman (Behavior Works) said:
"Don't change minds, bring information to the table."
That's a very important reminder. We can't change people's minds. They change their minds on their own. Actually, they activate other frames, which will be discussed below.
What we can do is provide them with information, and explain our values – and then they might at least be willing to consider our perspective.
But it's so tempting to provide information in the wrong way.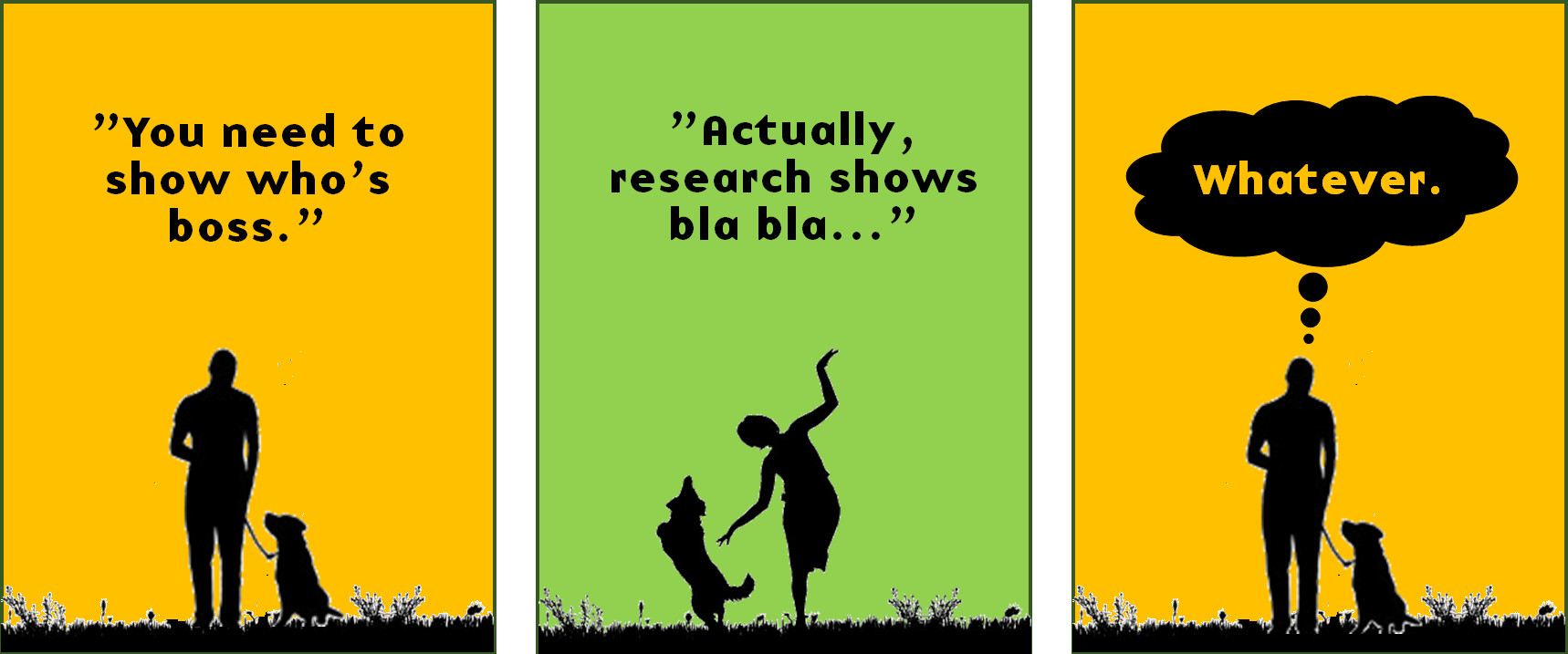 We try to explain. We talk about facts. And often, our efforts are in vain.
Why?
I can think of at least three reasons. Let's start with one that wasn't discussed at the conference.
Cognitive dissonance
I mentioned that animal welfare is potentially affected by training decisions.
And that one training camp is more likely to have an adverse effect on animal welfare.
Which camp would you rather be in?
That's a no-brainer for most people – there's no doubt in my mind that both camps care about the welfare of their animals.
And so the mere suggestion that what you're doing may cause suffering will cause cognitive dissonance, a type of mental stress that will lead to avoiding certain situations.
It's natural to avoid having conversations where someone suggests that you're causing suffering to animals.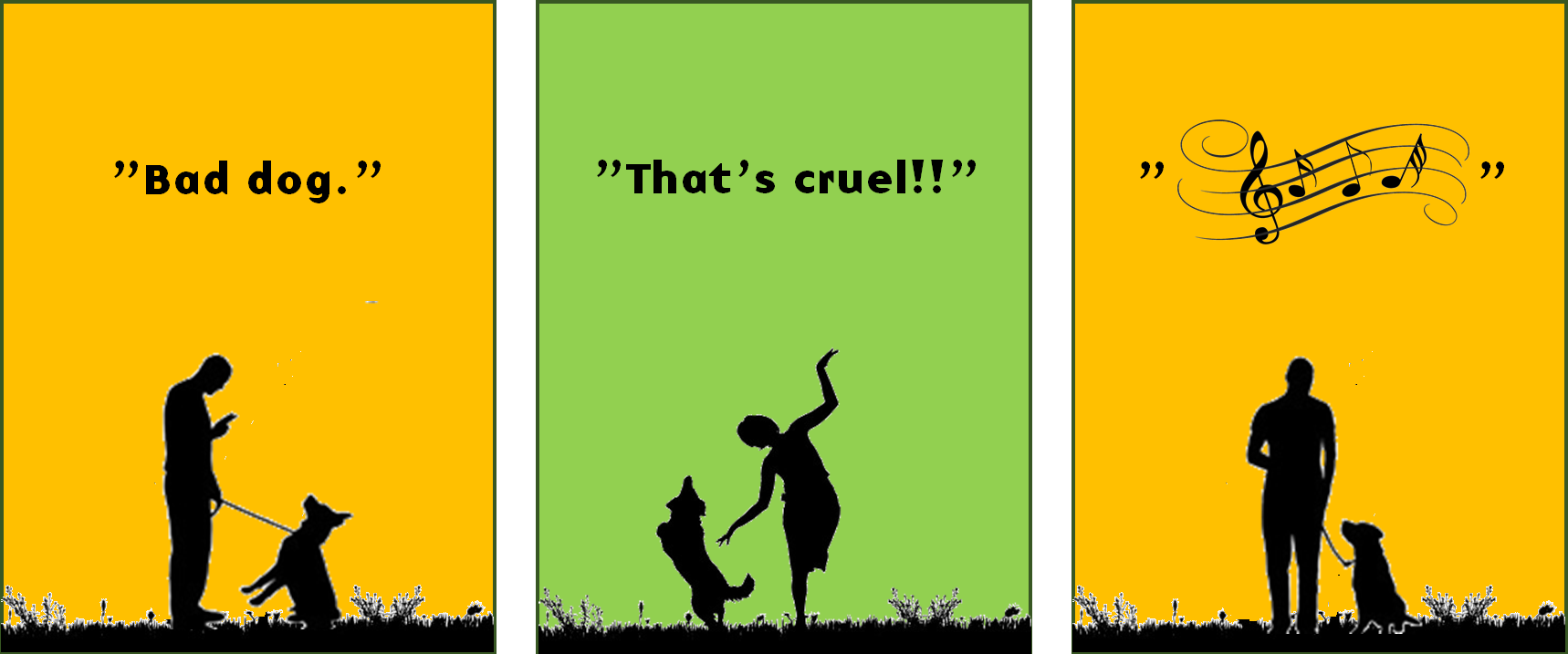 I realize it may be very uncomfortable reading this, and that I might have lost some of my readers already.
For those of you still here; clearly, if we want to maintain dialogue, we can't make people feel bad about previous choices. If we do, they'll tune out and walk away.
Don't make people feel guilty about what they're doing.
Instead, find the common ground.
At the conference, two additional reasons why providing information may be problematic were discussed.
The problem with overwhelm
Jean Donaldson (The Academy for Dog Trainers) said:
"They need needles; we give them haystacks."
We overwhelm people with too much information, and most of it is unnecessary.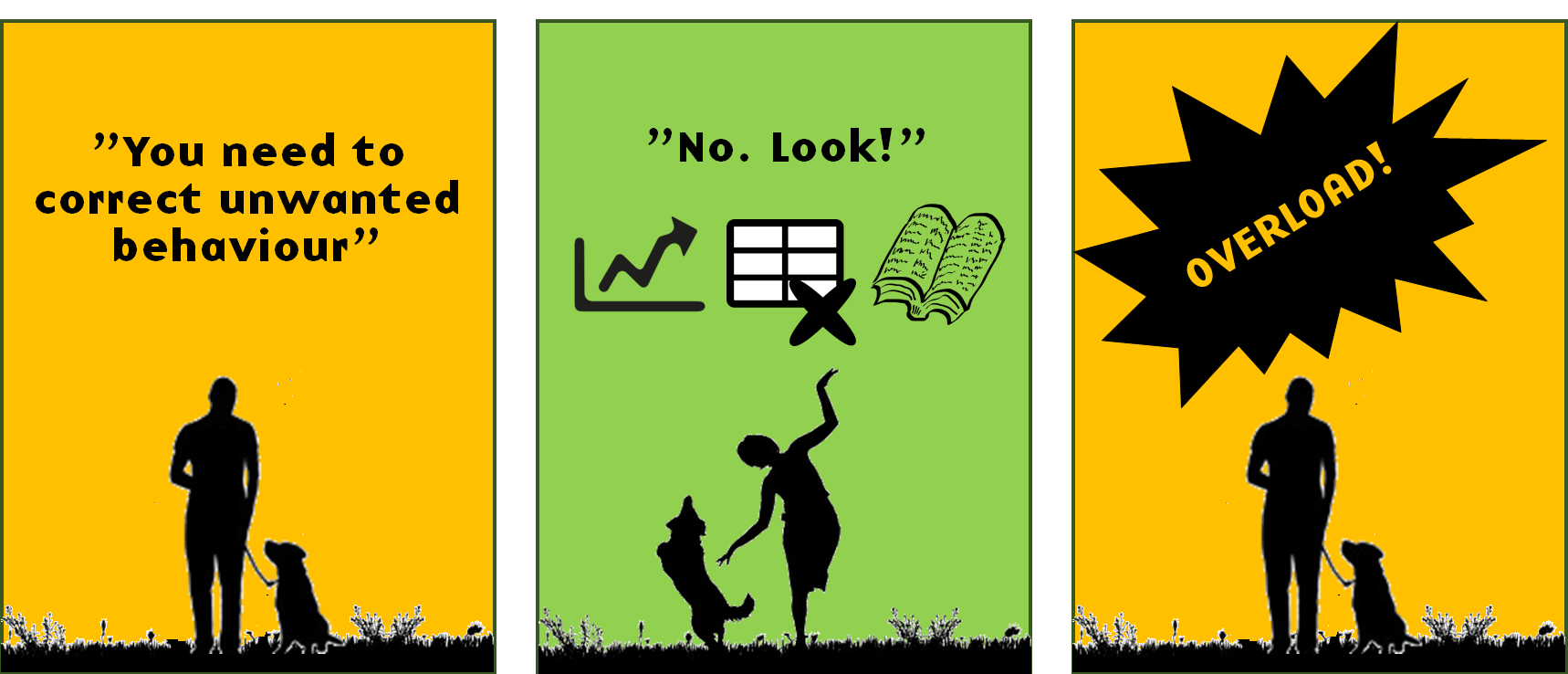 Guilt and overwhelm is not all. The biggest problem may be that the information we provide isn't understood by the other person, since we're from different camps.
Or rather, from different frames.
How frames influence behaviour
Alexandra Kurland (The Clicker Center) said:
"When people view the world from a completely different perspective, or frame, facts don't make sense if they're outside the person's frame of reference."
In other words, the different animal trainer camps aren't communicating well because it's as if we're speaking different languages and facts presented by one camp don't make sense to the other camp.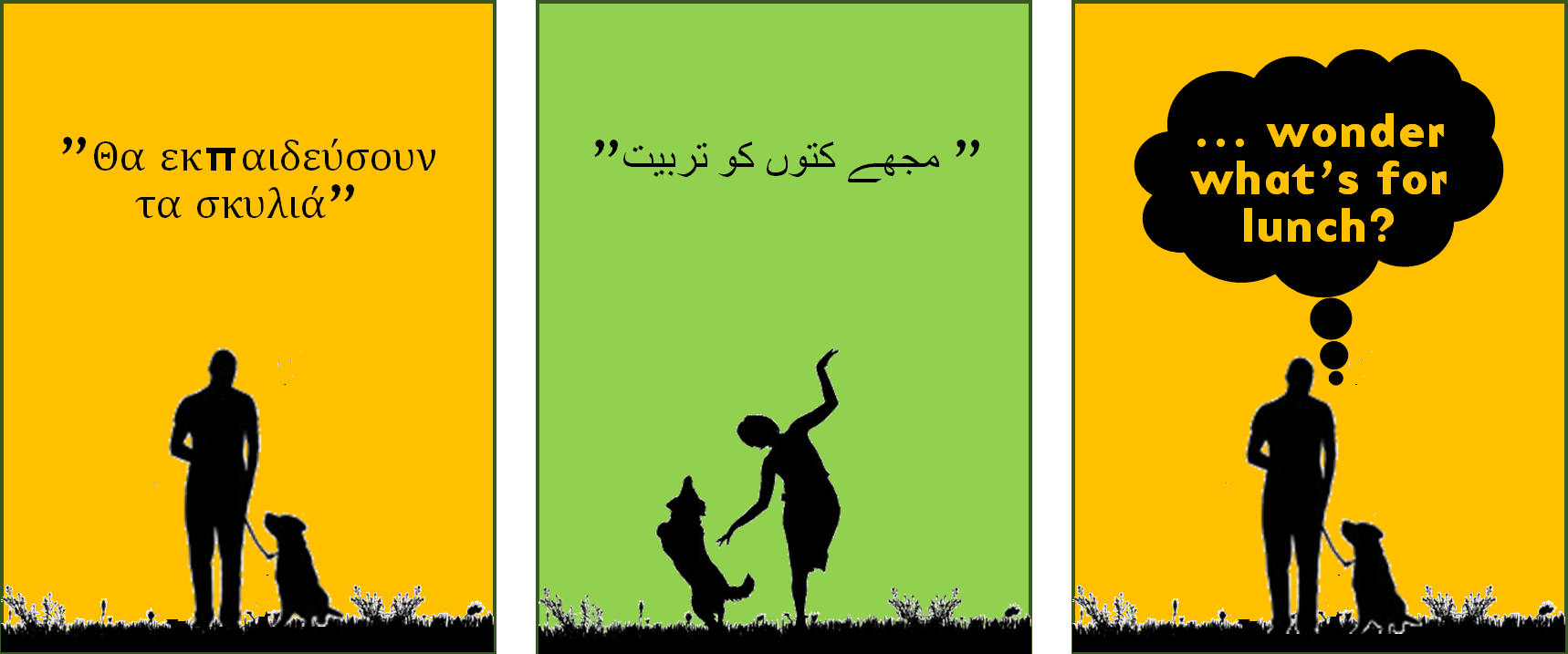 Ok.
Let's summarize.
We overwhelm people with too much information, or flood them with guilt, both of which causes them to shut down or walk away.
But in addition, the facts we present may be inaccessible. Like taking the wrong turn when looking for the lecture hall, and stumbling on an advanced lecture on quantum mechanics.
No doubt, for some people, advanced quantum mechanics make perfect sense. But for most of us, we can't immediately go from literacy (sort of understanding basic concepts) to fluency (actually using those concepts) without some sort of transition, or shift.
You may think: animal training isn't exactly quantum mechanics.
How hard can it be? Start with the easy bits! Duh!
But here's the interesting thing.
The problem may be not that the facts are hard to understand, but that the underlying values of the different frames make the facts from the other frame inaccessible. Frames are mental structures that help us understand the world, and as Alexandra Kurland suggests in this blog post, different animal trainer camps inhabit different frames.
Sound confusing?
Let's try an illustration.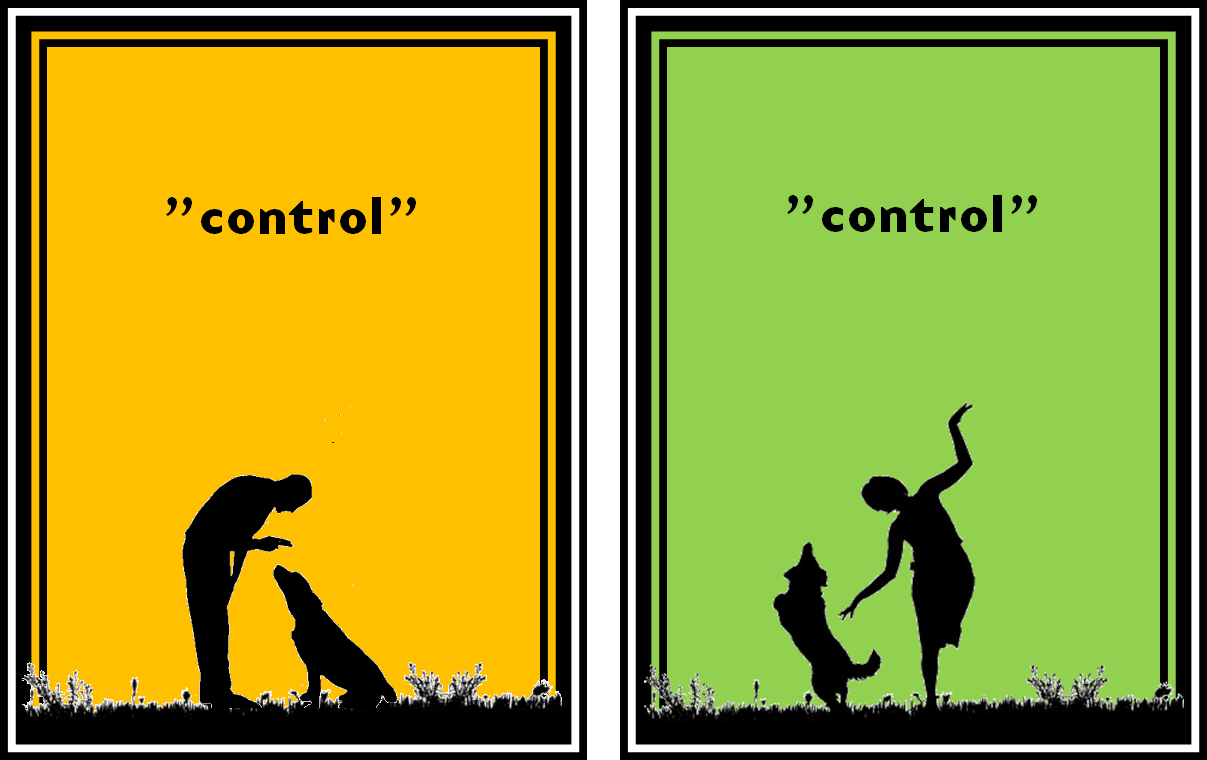 The term "control" means completely different things to the two trainer frames. The dominance-based trainer is likely to use the term control to discuss how the trainer controls the animal's behaviour or its access to the environment.
The positive reinforcement-based trainer is more likely to discuss how the animal can control its environment. Empowerment and choice are likely to be mentioned in the same sentence.
Same word, vastly different meaning.
Because of values.
This frame-related confusion, in addition to overwhelm and guilt, makes it difficult to use pure facts to get people to change their behaviour.
Well, if that's not annoying, I don't know what is. If we're in different frames, we can't communicate very well.
But wait, if people are in the same frame, they can communicate well.
Can we help people to shift frames, then?
…Yes we can!
That shift is easier accomplished by evoking values rather than stating facts or numbers.
Achieve the shift, and the other person will be ready to hear your facts. As long as you don't overwhelm them, and don't play the guilt card. Of course there are other cognitive biases, too, that will influence whether we accept and integrate new information, or whether we reject it.
One thing that wasn't discussed at the Woof! conference is the mere exposure effect, but I think it could be a useful concept when thinking about how to help people shift frames.
The mere exposure effect
You're buying food for your animal, and there's two varieties available. One of them, you've never seen before, the other is a common brand. The quality and price is the same. Will you choose the new product, or the one you're familiar with?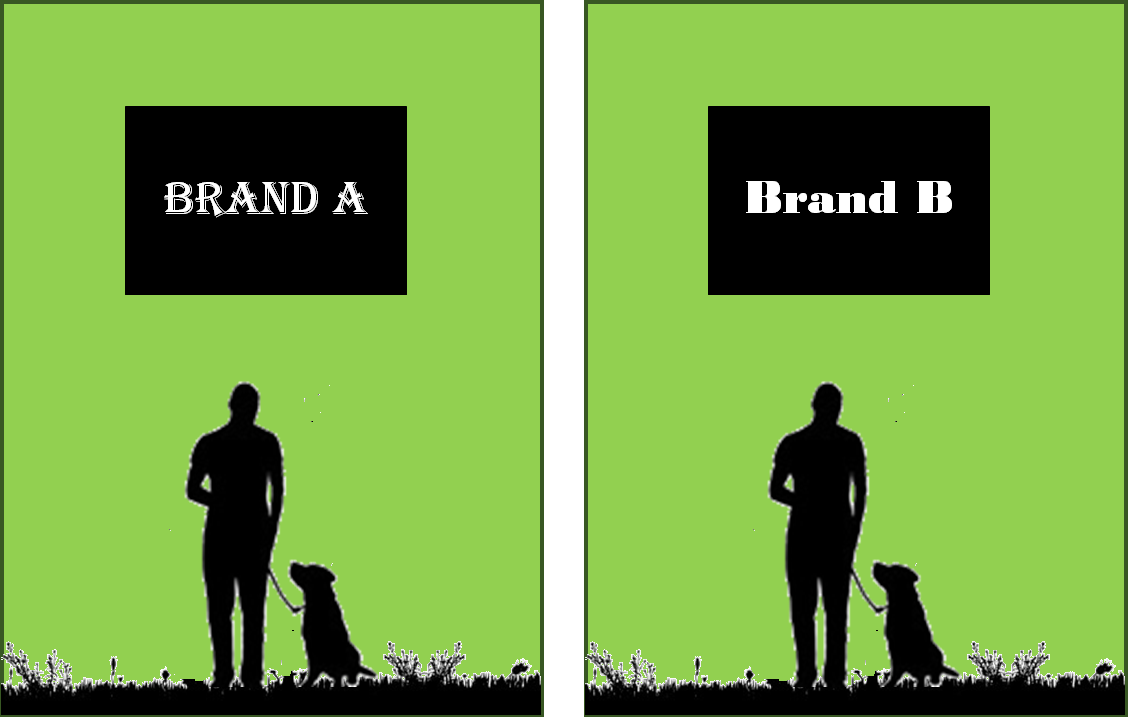 Generally speaking, people tend to resist change and novelty, and prefer the familiar to the unknown. When you're exposed to something over and over, it gradually becomes familiar.
Through mere exposure, or the familiarity principle, the unknown becomes well-known, and preference develops. Marketers know this well; that's one of the purposes of advertisements: to create the preference induced by the mere exposure-effect.
Preference involves value, and that's needed to make the shift of frames, remember..?
Here's a twist on that – one that should make us think twice about the topics we choose when talking to the other camp.
"Negating a frame activates that frame, as I pointed out in the book Don't Think of an Elephant! It doesn't matter if you are promoting Trump or attacking Trump, you are helping Trump." George Lakoff from "Understanding Trump"
Replace "Trump" with the name of an controversial animal trainer of your choice, and you'll see the problem.
You're helping that trainer by talking about him.
What to do? To quote John Cleese as the peerless Basil Faulty: "don't mention the war".
Don't mention the bad trainers. Demonstrate good training, instead.
Positive reinforcement-based training is still new. For many, it's still an unknown, and many people are naturally suspicious when they first hear about it.
But it's likely that through the mere exposure effect, the innate resistance will erode with time as the novelty of positive reinforcement-based training wears off.
More people will associate value with positive reinforcement-based training, and so even though they may spend most of their time in the dominance-based training frame, the other one is accessible.
Can we speed up this process?
I think so. Which brings us to our next nugget from this extraordinary conference.
Short Phrase coaching
Theresa McKeon (Tag Teach International) said:
"Chanting is more successful than I ever would have predicted."
In her work as a Tag teacher, she's used the concept of short phrase coaching to get her learners to succeed by timely chanting simple word combinations in order to trigger the right behaviour.
And it was at this point that I started thinking about memes, which weren't mentioned at the conference.
Memes
Memes are words, sounds or images that grab your attention and are memorable. Memes might be funny. Thought-provoking. Alliterations or rhymes often work well.
Memes are the cultural equivalent of genes.
Confusing? An example!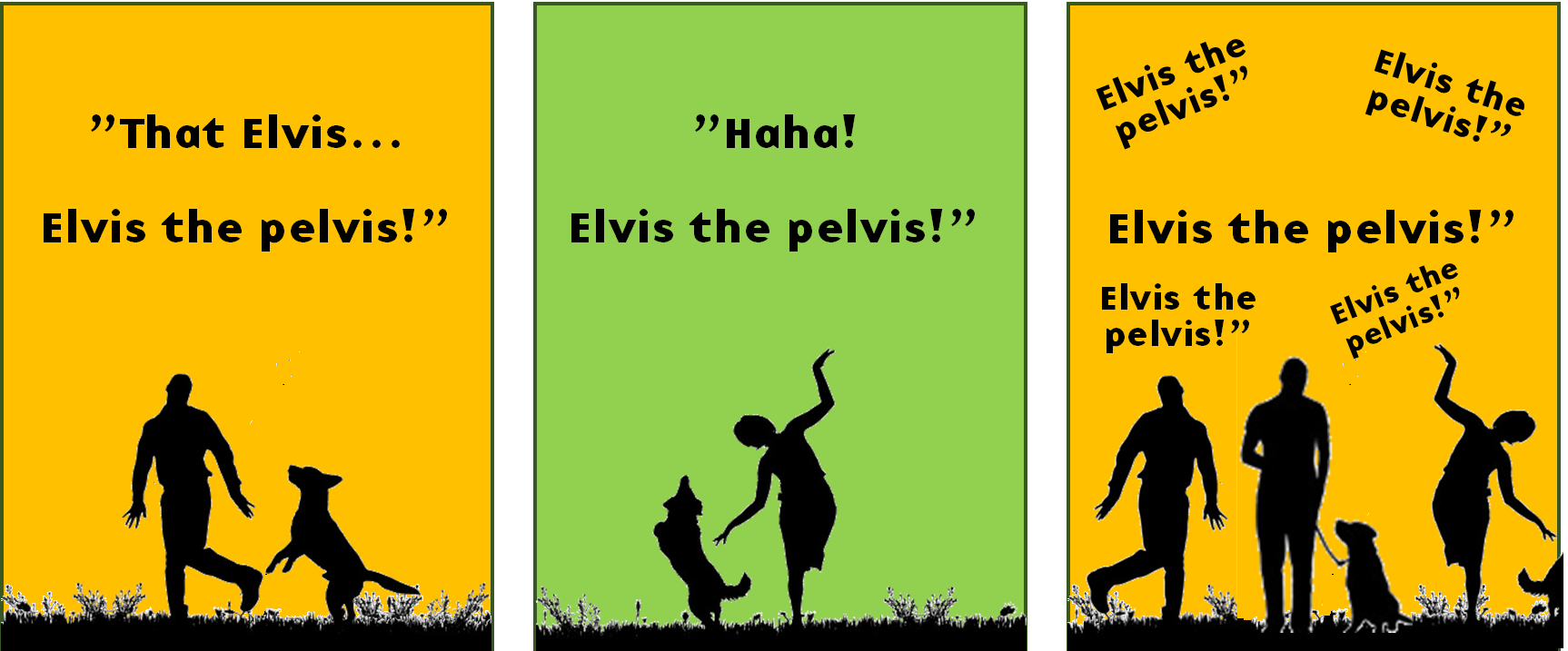 Still confusing? Here's some more info.
Just like successful genes, successful memes spread in a group and become progressively more common. Only, rather than rely on natural selection and genetic mutation over long time, they can spread fast by word of mouth, as well as mutate, through cultural selection.
At the Woof! conference, legendary Bob Bailey said:
"Training is simple, but not easy."
If you ever had the privilege of learning from Bob, you'll agree: the man is a master at inventing great training memes.
Why am I talking about memes?
Because memes can become viral, spreading like wild fire.
Enter social media. The substrate in which memes grow like crazy.
The importance of social media
Sean Pogson (Eirinn's dad), said:
"Facebook posts taught me how to help my autistic daughter."
At Woof!, Sean shared a spectacular and heart-warming story about how his Facebook contacts had introduced him to applied behaviour analysis, which had radically improved his daughter's condition. Find some of his story here.
Social media is an incredibly powerful tool when it comes to reaching people.
And combining the power of social media with inherently viral memes could have a huge impact on the animal training community in general, and animal welfare in particular.
Yay! Is this the way to bridge the gap between the two animal training camps?
Using memes to change the world of animal training
I think we, the positive reinforcement trainer community, should
Come up with a few great memes that capture what we do and why.
Start using these memes intentionally, sharing them over social media.
Here are a few examples of what I think might be useful animal training memes: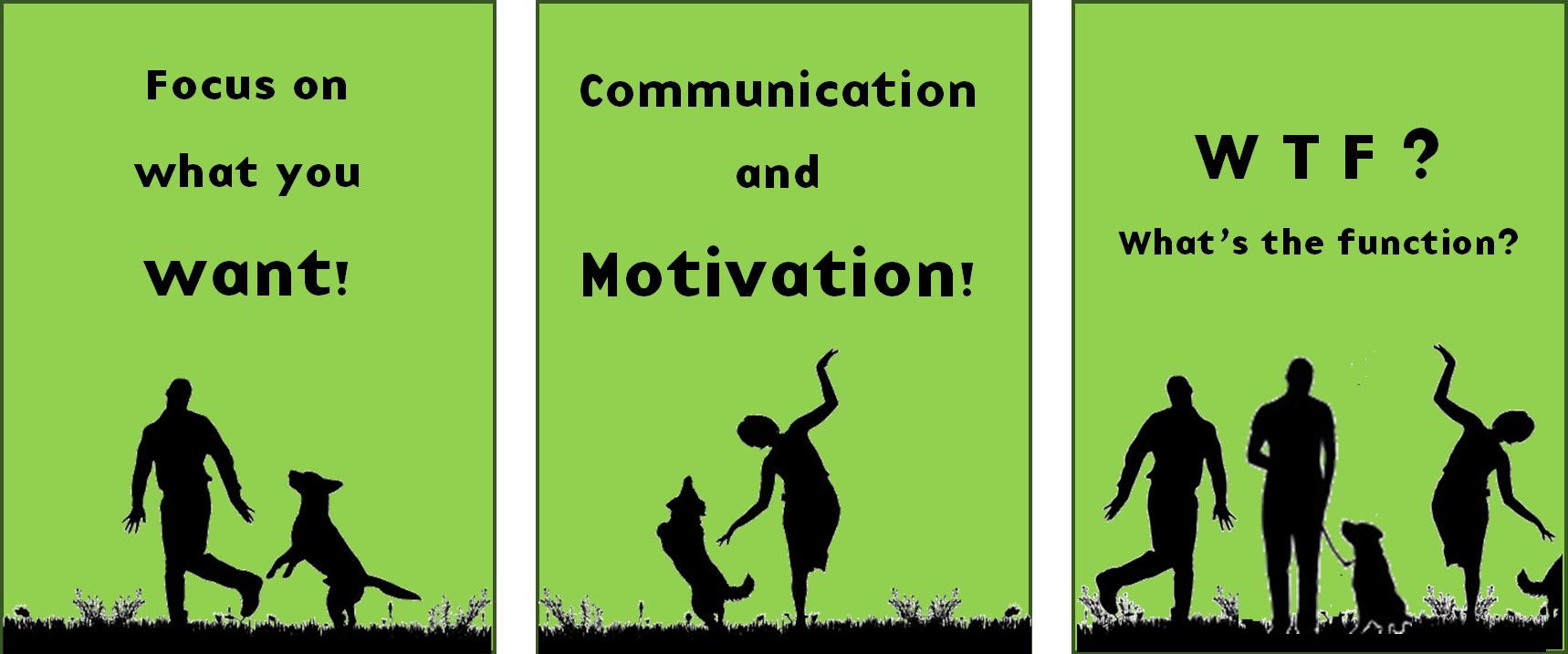 Hm. Wondering if I should explain these. Should I?
These are just suggestions, mind you. I wanted to write this blog post, rather than identify the memes the most likely to succeed. Time will tell if these suggestions survive to have any impact, and that largely depends on you.
This is what I predict will happen if they – or other memes we come up with – are successful:
Non-trainers and the other camp will notice the memes, since they stand out from non-memes and are being flooded onto social media and make their way into training conversations.
Initially our audience may be suspicious of them, but due to the mere exposure effect people will start internalizing them.
The memes have value; they're needles rather than hay stacks.
The new memes will help facilitate the switch to the other reference frame, thanks to their value as well as the mere exposure effect
The two training camps can start having meaningful discussions when both people in a conversation are in the same reference frame.
There will be less friction and true communication between camps.
We can start talking about all the facts that support our choice of training technique, demonstrate how it's actually done and help overcome initial obstacles.
Animal welfare will improve, and animal trainers will be happier.
Take action
I'm going to end this blog post with a few action points for you, my fellow animal trainers. Get off your butt and do these four things, and (hopefully) see the ripple effects spread.
Action 1: Type some potential memes from the training-related expressions you're already using below in the comments' section.
Action 2: Comment on the memes that others have shared – which do you like?
Action 3: Share this blog post.
Action 4: Start using the memes that you like the most – mention them on social media so they may reach non-trainers and people from the other training camp.
Hopefully, together we can actually have an impact. If not, at least you'll get some great ideas that might improve your own training.
After all, as Theresa McKeon said: chanting was more successful than she ever would have predicted.
Update: later I took action and ran an experiment, releasing 28 wannabe memes onto Facebook and documenting what happened. The topic: how emotions in animals impact behaviour, learning and wellbeing. The memes (and their lessons) were summarized in a free e-book. Wanna take a look? Just sign up below and get direct access! I'll also keep you posted on future blog posts, free webinars, masterclasses, silly experiments as well as when my courses open for admission!
I also semi-regularly post short wannabe memes about animal learning and behaviour from my Getting Behaviour course – the foundations of animal training, on Facebook. Take a peek in this photo album.