Revised August 2019.
Depending on who you ask, you get a vastly different answer to the question of whether it's a good idea to pet a frightened dog (or other animal with whom you have an established relationship and that enjoys your touch) during noisy (scary) events.
In the scientific literature, the overwhelming majority of articles (if not all…?) recommend not petting, meaning that petting fearful dogs inadvertently reinforces the anxious behaviour.
Still, in the dog training community, many professional dog trainers do recommend petting an anxious animal, and it has been argued that "petting doesn't reinforce fear, it reduces it".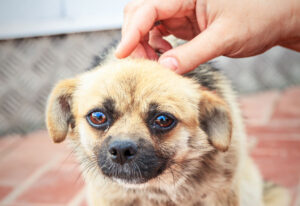 So which is it? Could both sides have a point?
Continue reading "Dog owners: to pet or not to pet during thunderstorms or fireworks."