Revised August 2019.
Depending on who you ask, you get a vastly different answer to the question of whether it's a good idea to pet a frightened dog (or other animal with whom you have an established relationship and that enjoys your touch) during noisy (scary) events.
In the scientific literature, the overwhelming majority of articles (if not all…?) recommend not petting, meaning that petting fearful dogs inadvertently reinforces the anxious behaviour.
Still, in the dog training community, many professional dog trainers do recommend petting an anxious animal, and it has been argued that "petting doesn't reinforce fear, it reduces it".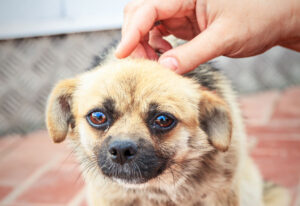 So which is it? Could both sides have a point?
Let's start with terminology.
Reinforcement.
Does petting reinforce fear?
Well, the process of reinforcement occurs during operant learning. In positive reinforcement learning, animals learn that certain behaviours have desired outcomes, as they result in getting access to something the animal wants.
The animal performs a behaviour, receives reinforcement, and repeats the behaviour in order to get some more goodies.
Fear isn't a behaviour, though, it's an emotional state.
And I sometimes hear people say "emotions can't be reinforced – only behaviours can be reinforced". That sweeping statement suggests that emotions have nothing to do with the process of reinforcement.
I disagree.
I think emotions have everything to do with reinforcement.
After all, without emotional responses to stimuli, those stimuli wouldn't be reinforcing – or punishing.
Without emotional responses to incoming stimuli, those stimuli would remain neutral.
It's because they elicit emotional reactions that those stimuli end up being reinforcers or punishers.
But – positive and negative emotions are regulated differently, by positive versus negative feedback loops.
Let's see if I can unpack that last statement, because it's crucial to this discussion.
Emotions involved in positive reinforcement are in a positive feedback loop.
Imagine for a second a dog who sits, gets petted, and then sits some more.
Petting feels good (assuming it's a reinforcer in the first place when delivered from one particular person to a particular animal, but let's make that assumption, for now. People often overestimate how much their animals enjoy being petted, but that's a topic for another blog post, perhaps…)
For a cuddle-seeking animal, petting is a positive reinforcer that leads to more behaviour (in this case, sitting) and a corresponding feel-good emotion: a positive feedback loop.
The animal continues offering sits to get more attention and body contact and remain in that happy mood, at least until something more interesting happens – or until they satiate.
What about fear, then?
We know animals don't like being fearful, but even behaviours that animals don't appreciate may be reinforced if the reinforcer is valuable enough.
So, the fear-is-reinforced-by-petting argument goes: "the animal acts fearful, gets petted and then acts even more fearful in order to get petted some more."
It is assumed that through positive reinforcement (adding something the animal enjoys), fearful behaviour will increase. And presumably, the accompanying emotion too. No distinction is usually made between observable behaviour and the corresponding emotional state.
However, fear is not comparable to operant behaviour such as sitting, coming when called or giving a high five.
Fear is an emotional state, and one that has immense survival value.
Fear leads to predictable observable behavioural reactions such as freezing, fleeing or (if cornered), fighting.
In other words, many behaviours associated with the emotion fear serve to reduce that emotional state, by removing or increasing the distance to the frightening stimulus.
This involves, by the way, the process of negative reinforcement (removing something the animal dislikes when the animal performs the correct behaviour).
For a frightened animal, hiding reduces the impact of the negative reinforcer, that scary thing.
In other words, it's a negative feedback loop that reduces fear. So even though the observable behaviour (hiding) may be reinforced and showed again when the fearful stimulus is presented, the corresponding emotion is not.
Successful negative reinforcement leads to relief. A reduction of fear.
Emotions involved in negative reinforcement are in a negative feedback loop.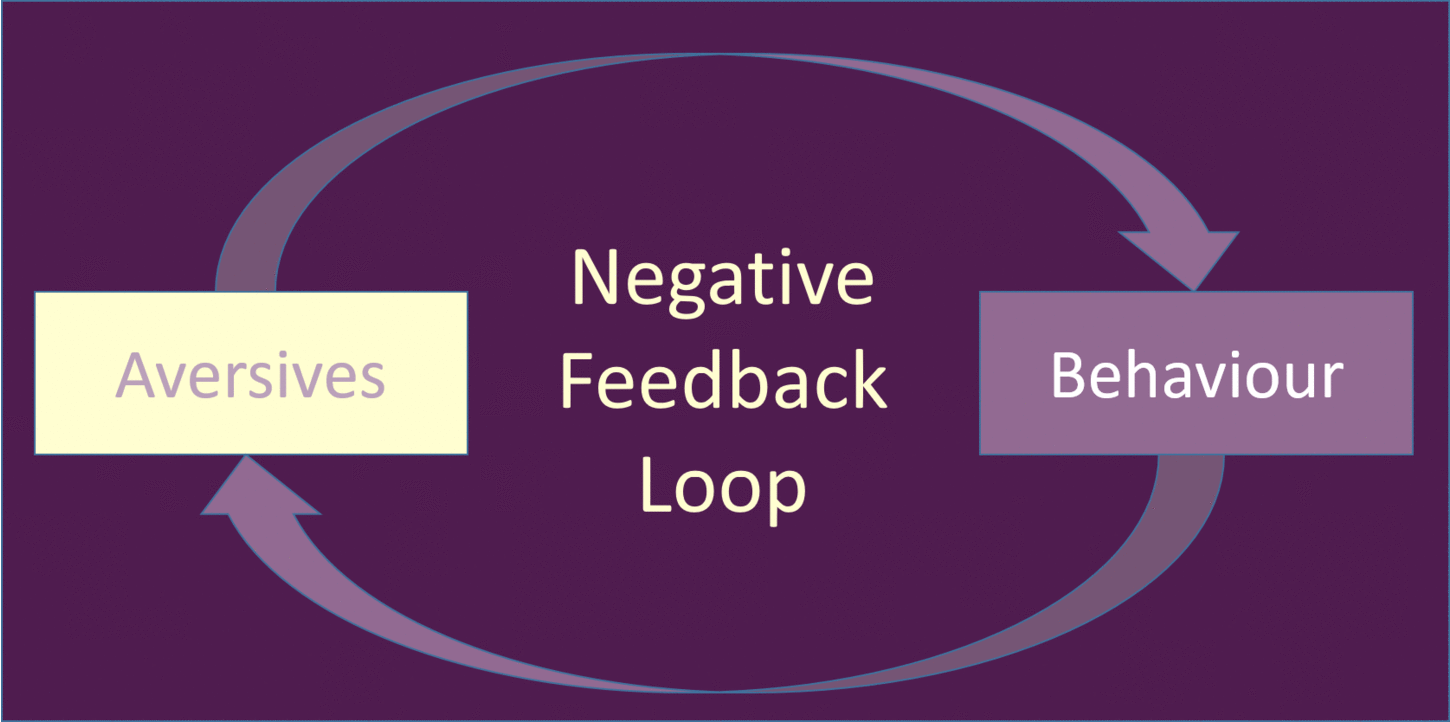 So, it's hard to even imagine that you could positively reinforce the emotion of fear and the associated observable behaviours, such as hiding, since they work in a negative feedback loop.
Sitting produces treats when you're hungry through positive reinforcement, and happy excitement increases.

In contrast, hiding eliminates aversive stimuli when you're fearful through negative reinforcement, and fear is reduced.
Many fearful overt behaviours serve to decrease fear through negative reinforcement: an outcome the animal enjoys. Assuming petting is something else that the animal enjoys, it should have the same effect as hiding: to reduce fear.
So, the argument that petting-reinforces-fear is just plain incorrect since fear-related behaviours are governed by negative reinforcement that serves to remove the aversive stimulus, reducing the underlying emotional state through a negative feedback loop. Once fear has diminished beyond a certain level, the animal will stop hiding.
Hiding during a thunderstorm is negatively reinforced since it reduces fear. Likewise, soliciting petting from the owner is negatively reinforced since it reduces fear. Yes, your dog will seek you out to ask for comfort when frightened, just as he will attempt to hide, since both behaviours work to reduce fear!
So, many dog trainers will pet their frightened dog to good effect. However, they may be hesitant to recommend this procedure to someone who's not so used to reading their dog and changing their own behaviour.
In my opinion, the people that warn that petting-could-make-fear-worse are not wrong, they just use the wrong terminology.
Petting may, unfortunately, lead to increased fear or more suffering; just not through the process of reinforcement.
I see no less than three potential mechanisms why this might occur.
Three ways that petting a frightened animal could make things worse: extinction bursts, sensitization and respondent conditioning.
Situation 1) The animal is really frightened, seeks attention and gets petted, which under normal conditions reduces arousal and feels really nice. But if the animal is too fearful, it could be that this effect is not achieved and high arousal is maintained. If petting no longer "works", the animal is no longer being reinforced.
What happens when previously reinforced behaviour no longer works?
Extinction bursts, that's what.
It is not uncommon that frightened dogs start climbing and pawing their owners, getting even more aroused when they get petted – perhaps because they're not getting the relaxation they've learned to expect from being-petted-when-in-a-positive-or-neutral-mood.
So, hypothetically, at some arousal threshold, petting will no longer reduce arousal, and this may cause an extinction burst and increased arousal in frightened animals.
To reduce this risk, block out offensive stimuli such as sounds and sights by providing a good hiding place. Theoretically this might keep the arousal level below the threshold so that petting still "works".
Situation 2) The animal is really frightened and has become sensitized to other stimuli, including touch.
Sensitization has multimodal effects, meaning that the other senses tend to become sensitized too, so touch may become aversive. And even though the animal may not become more fearful, petting may add another unwanted stimulus on top of everything else, and increase discomfort.
To reduce the risk of sensitization, again, block out the aversive stimuli.
Situation 3) Through respondent conditioning, fear may increase – or decrease.
Suppose that after each loud sound, you pet the animal. The animal thus learns that awful sounds are followed by petting, and through counterconditioning, the sounds become less aversive.
However, what happens if there is a new loud sound immediately after petting occurred? Then it's hard to predict which type of respondent conditioning will occur.
If you're lucky, counterconditioning to noise occurs (noise predicting petting). Fear should decrease.
If you're unlucky, counterconditioning occurs to petting (petting predicting noise). Fear might increase.
Petting-during-noise might increase fear, not through operant conditioning and reinforcement, but through respondent conditioning.

Incidentally, with the same reasoning, animals may learn to fear wonderful treats, too.
During a fireworks display, there's typically more or less continuous sound, whereas during thunderstorms, annoying visual and auditory stimuli are less frequent.
I would thus expect that the risk of inadvertent respondent conditioning resulting in petting-increasing-fear would be higher during fireworks than during thunderstorms (unless the animal is fearful of the changes in barometric pressure or electrical discharges which may be a lot more continuous).
Do you agree – do dogs respond better to petting during thunder than fireworks? What's your experience? Let us know in the comments' section!
I would also expect that the intensity of the stimuli would affect the outcome of frequent-noises-interspersed-with-petting. If noise is loud, it may overshadow petting so that the animal doesn't even notice that it's being petted (unless it's sensitized, which you'll notice).
Sorry, if you're unfamiliar with the term overshadowing, it means that one of the two stimuli is so obvious that the other stimulus isn't noted.
If noise is soft, petting may overshadow the noise so that the animal doesn't even notice that there is a storm outside… and if you're using treats, make sure that they're absolutely fabulous so that treats overshadow noise rather than the other way around.
Of course, another factor that will influence the outcome of the interaction is that the owner may be calmed by petting the dog – and that may have a huge influence on the animal!
Conclusion:
Be cautious of petting a frightened dog during a noisy event (especially fireworks). It may make both of you feel better, but pay attention to the animal.
Stop if you see that petting makes things worse (which could occur through three different mechanisms). Above all, block the annoying stimuli as best you can: allow the animal to hide in a sound-proof place. If you're giving treats after each noise, make sure they're superbly yummy.
BTW, here's everything else you need to know about how to reduce fear of noise in dogs during the acute phase, the off-season phase, as well as the preventive phase. Want it as an E-book? 😉