When I was little, I became mesmerized by Dr Dolittle.
Dr Dolittle could talk to animals. He'd ask them questions, they'd vocalize, he'd nod wisely and translate their chirps, whistles, woofs and meows to plain English, to the astonishment of those present.
It was my all-time favourite movie, when I was nine.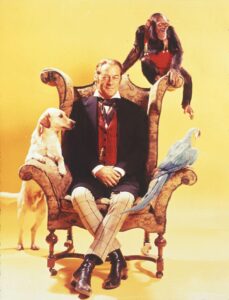 Side-note: the 2,5-hour film from 1967 was broadcast on TV at a time in the evening when I was supposed to go to bed about three-quarters of the way through. So after one hour and 45 minutes, dad said: "time to go to bed, Karolina".
And I pleaded. Threatened. Screamed.
To no avail; there were to be no exceptions to that bedtime hour. I remember being lead to my room, still protesting loudly. And then I spent several hours having a loud and ugly meltdown alone in my room, way past the time that the film ended, and at some point somewhat triumphantly shrieking at the door: "If only you'd let me watch the whole film I'd be asleep by now!!!"
Continue reading

"Talking to animals"