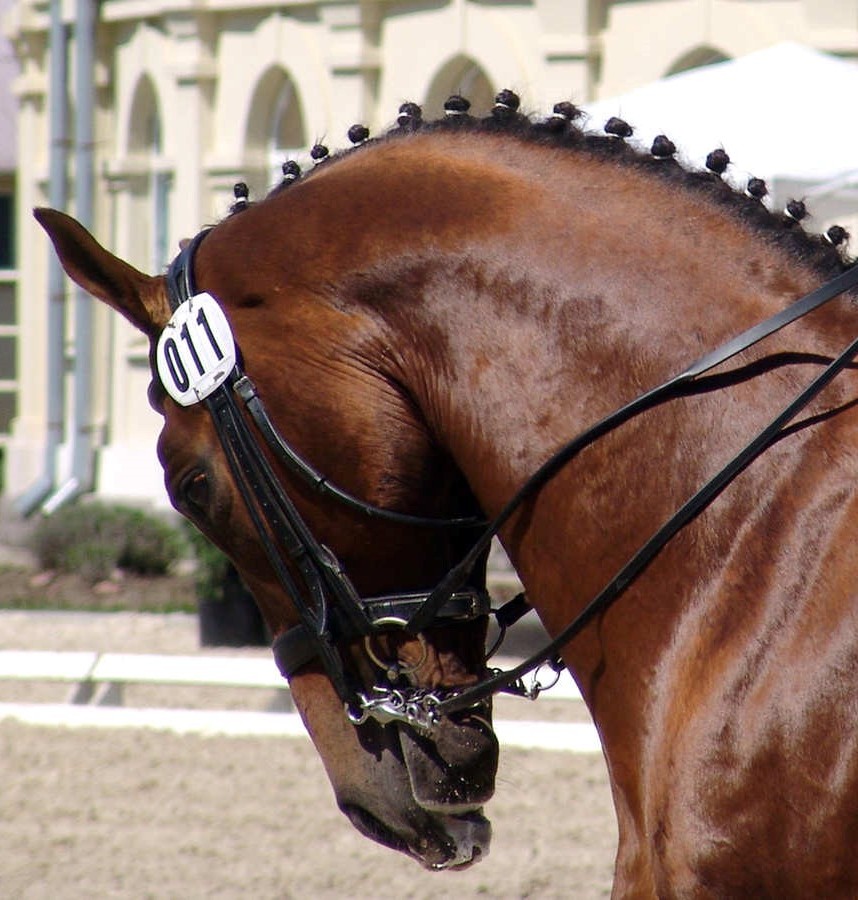 When managing animal behaviour, such as training an animal to carry out a new response, there are two questions to ask before getting started.
What is the cost/benefit of the behaviour?
How should it be trained?
Let's look at the first of those two questions, as it will help decide whether a behaviour should be trained at all, and identify potential problems. I'm saving the second question for another blog post.
Training new behaviour could in some cases cause suffering to the animal.
Suffering, in this example, is one type of "cost." There may be other costs too, but for now I'll settle for things like distress, discomfort or injury. So, for each prospective behaviour to be trained, one might assess whether there's potential suffering involved.
Also, whether there's any benefit to training the behaviour.
And so, we could imagine four potential outcomes of training a specific behaviour.

If there are no benefits to training the behaviour, then there are no reasons to train it.
If there are benefits to be gained from training the behaviour, there will be an ethical dilemma if the animal will suffer from learning or performing the behaviour.
This blog post is not about how to resolve the ethical dilemmas of situations where there are both benefits and suffering. That type of situation could range from easy decisions such as whether to vaccinate, to difficult decisions such as whether to experiment on animals.
If you're interested in those ethical / philosophical questions, and learn more about your own thoughts on the matter, check out the "animal ethics dilemma" test here.
I'm surprised by how often the cost/benefit question seems to be overlooked. It's crucial in deciding whether to go ahead and train a behaviour or perform certain animal husbandry.
Let's look at a horse example.
The "cost" of hyperflexion
Apparently, there has been a trend in the last 20 or so years to ride dressage horses with heads bent increasingly beyond the vertical angle (Lashley et al., 2014).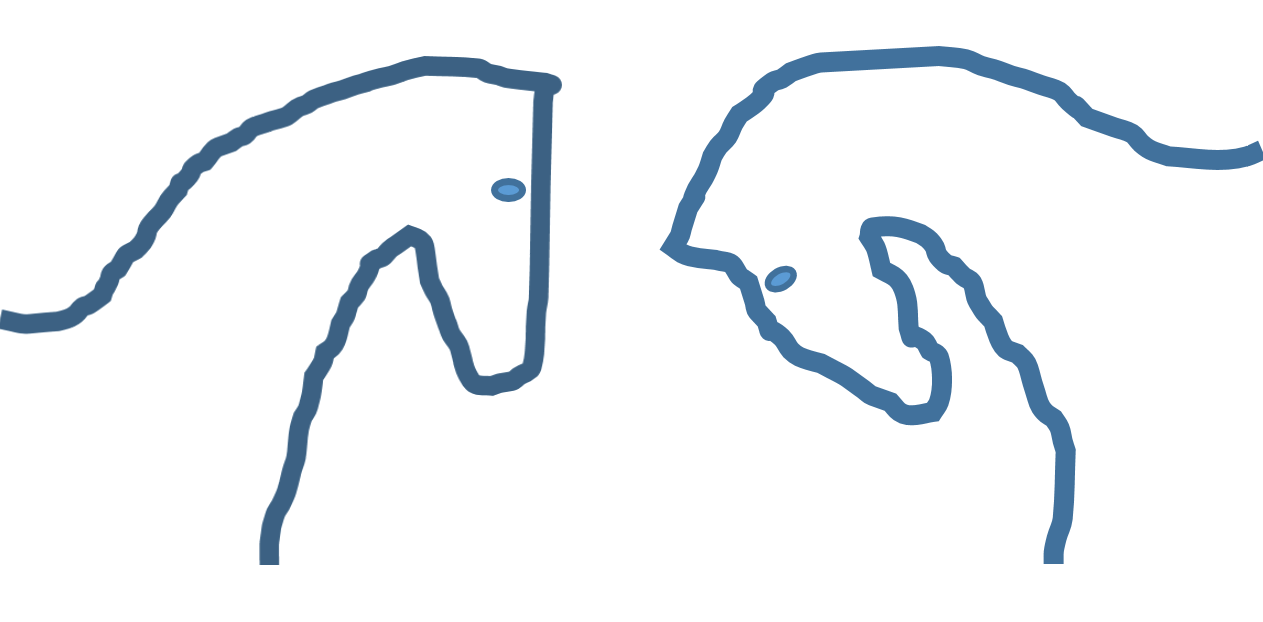 In terms of costs, could hyperflexion cause distress, anxiety, or injury to the animal?
I'll be frank.
I'm not a horse person.
I've never seen the extreme position (hyperflexion) being trained live.
I don't know the names of the bits, reins and whatnots.
But there's been a lot of discussion about this in the media, so I spent some time on Google Scholar to educate myself about potential harmful effects of hyperflexion.
What I found was disconcerting.
Hyperflexion may involve an acute stress response as measured by an immediate increase in the stress hormone cortisol (Christensen et al., 2014).
If trained coercively, hyperflexion is uncomfortable (as indicated by an increase in tail-swishing, head tosses and attempts at bucking). It also increases fearfulness, and the researchers warned that such horses could potentially be more dangerous to ride. In the same study, if given the choice, the horses preferred having their head in a regular position (with the nose line at or above the vertical) rather than in hyperflexion (von Borstel et al., 2009).
Perhaps most disturbingly, 80% of dressage and jump horses develop injuries in the neck, thought to be connected to the exaggerated hyperflexed postures (Weiler, 2006, 2007). However, it seems these findings have not been generally accepted by the international horse community, perhaps because Weiler's findings haven't been published in any peer reviewed journals (as far as I can tell). His thesis is in German, and I can't find him referenced on Google Scholar.
This is the problem with science. Unless a study is published in a peer reviewed paper, it's as if it doesn't exist. From what I can gather in the snippets of quotes I've found, Weiler studied 1000 horses and found anomalies (inflammations and abnormal bone growth at the poll) amongst the majority of dressage and jump horses, but not in other types of horses. To me that would suggest that there is a correlation between riding style and injury, and inferring that one might cause the other isn't exactly a long shot.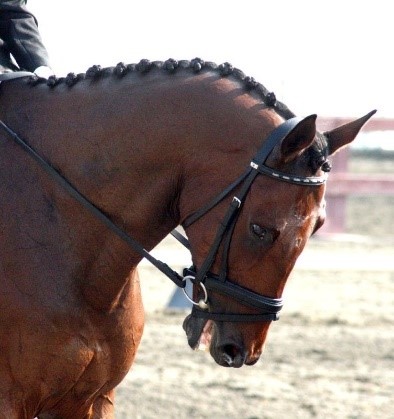 OK, so there is a risk of suffering in horses when exposed to hyperflexion. Not all horses all the time, perhaps, but all these different lines of evidence indicate that it could potentially be a very serious problem. As discussed in this blog post, assessing discomfort and pain is difficult in dressage horses, since many wear nosebands and double bridles that close the mouth so that the telltale signs of discomfort (yawning, open mouths and thrashing tongue) disappear. With that standard equipment, the horse thus has fewer ways of communicating that he's not at ease.
So, in the matrix above, hyperflexion would rate either as abuse or as an ethical dilemma depending on whether there are any potential benefits associated with the technique.
If hyperflexion is potentially bad for horses, why are they trained to perform like that?
The "benefits" of hyperflexion.
Benefits explain why we do things. Benefits somehow makes life better for someone, people or animals.
What are, supposedly, the benefits of hyperflexion? How does it make life better for people or animals?
I find four lines of argument hypothetically in favor of hyperflexion – but I don't think they stand up very well to scrutiny.
Actually, they're potential costs.
Do horses ridden in hyperflexion get better scores in dressage competitions?
Well, I find one study saying that they do, and another saying that hyperflexion was actually penalized with lower marks in the lower competition levels, and there was no difference in the higher competition levels.
So it seems that whether hyperflexion is rewarded during competition depends on the individual judges – it may even be penalized. An unpredictable outcome – not a clear-cut benefit; sometimes even a cost.
Do people think hyperflexion in horses looks nice? More attractive?
No. When asked to select a representation of their ideal horse, 93% of participants in one study chose images of horses with heads above the vertical line (Caspar et al., 2015) – that is, only 7% preferred the hyperflexed "look". This is cost, not benefit.
Do horses become suppler after stretching the neck – does hyperflexion improve posture and gait?
Not according to this article – hyperflexion puts an increased load on the forelegs, and the author Jean Luc Cornille calls it a "failure of Olympic dimensions". Scientists warn that there is risk of injury if the horse is ridden too long in hyperflexion (Rhodin et al., 2009). Again, cost, not benefit.
Is hyperflexion a way to ensure a submissive horse?
Apparently in some parts of the horse training community, "submission" more or less equals cooperation. A submissive horse is apparently one that is supple, relaxed and responsive, as far as I can tell.
Not what I as an ethologist would call submission, but I won't argue this point here.
What I will point out is that there is a huge risk of learned helplessness during lengthy hyperflexion (Call et al., 1998) – that the horse has no control over unpleasant or harmful conditions, and that their actions are futile – they are helpless.
Indeed, learned helplessness can interfere with learning and performance.
What does this mean? It means, that rather than performing better in dressage competition, hyperflexion could have the opposite effect. Indeed, cooperation can be achieved through other means – even with bitless bridles, and this argument is, just as the others, cost and not benefit.
So, hyperflexion is stressful and potentially damaging to horses, there is no clear competitive advantage to hyperflexion in dressage, the general public actually prefer seeing horses that are not hyperflexed, it's arguable whether posture and gait is improved, and it may cause learned helplessness which interferes with learning and performance…
Cost, cost, cost and cost. I don't find any benefits.
So, I must conclude that hyperflexion in horses is generally abuse.
I could be wrong, of course. Maybe some of the "benefits" that I dismissed and reframed as costs actually has some value to them, at least for some horses sometimes.
In such cases, hyperflexion would be an ethical dilemma rather than abuse.
In such cases, one would have to weigh the costs and benefits of hyperflexion for that particular animal. Can costs be reduced? Benefits maximized? Is it worth the risks to the individual animal's health?
That discussion is beyond the scope of this blog post. I'm painting a broad picture here, not discussing details and exceptions.
But I am curious.
Why are people training their horses to hyperflexion in dressage competition?
What's the point?
Hyperflexion is uncomfortable and stressful to the horse, and could cause long-term injury. Did I mention that their breathing is affected (Zebisch et al., 2014)?
Judges are not automatically inclined to reward hyperflexion with better scores. Many of the so-called benefits are actually hidden costs.
Then why?
Why do people train a behaviour that has no benefit and causes suffering?
Perhaps just because.
Because someone else did it. Someone influential. Saying "this is what you should do".
Social conformity can make people do the inanest things, as shown in this video.
So, we can see how the practice of hyperflexion can continue to propagate despite being not only useless but also detrimental to the horse – despite being abusive – simply due to this phenomenon of social conformity.
I suppose snapping out of this type of situation isn't easy. I would expect practitioners of hyperflexion to get defensive when confronted with these findings.
Perhaps challenge my lack of understanding of horses, or the fact that I'm referring to research that hasn't been published in peer-reviewed papers.
Or perhaps arguing that the researchers didn't know the first thing about horses either.
Or that there are benefits that I don't know about.
The point I'm trying to make here is: should hyperflexion be trained at all?
Look at the cost/benefit of your particular situation and ask: is it worth it?
The cost/benefit question is important, as it will help you decide whether to train a behaviour or carry out an animal husbandry intervention at all.
That decision is also a moving target, so adjustment is needed as we learn more.
A few years ago there were hardly any data indicating that hyperflexion was particularly detrimental to horses – there were no known costs in terms of suffering. In fact, in an FEI expert meeting in 2006 it was stated that: "in experienced hands there was no apparent abuse, improper welfare or clinical side effects associated from the use of hyperflexion". Note that the papers I'm citing in this blog post are all more recent and reach the opposite conclusion.
Also, Rollkur (the coerced version of hyperflexion) has recently been banned by the North American Western Dressage Organization, and all the bad press will probably influence the judges of dressage competitions, further reducing the potential benefits. I mentioned that two scientific papers disagreed on whether hyperflexion was penalized or beneficial in dressage competition: in data from 2008 it was beneficial (Lashley et al., 2014), in a 2014 paper it was penalized (Kienapfel et al., 2014). So what used to be a benefit is now a cost in terms of dressage points.
So, answers to the cost/benefit question change over time. In 2006, hyperflexion would not have been "abuse" but instead "useful" based on the knowledge available at the time.
A sobering thought. What are we doing that is "useful" today but will be "abuse" in ten years?
A paradigm shift is painful. I hope that practitioners of hyperflexion will take a few deep breaths and consider these rather recent findings when deciding how to go about training the next horse, or prepare for the next competition.
It's never too late to change. That's how we grow – and the cost-benefit question will help us develop, question norms and find new solutions in animal training and husbandry.
But – the cost/benefit question was just the first of two important questions.
The second one is: how should a behaviour be trained?
This blog post grew so long that I decided that it will be the topic of the next one!
***
I teach about behaviour management in several online courses. Sounds interesting? Sign up to get notified whenever one of them opens for admission, and I'll also keep you posted on free webinars and new blog posts!
References:
Caspar et al. (2015). Human Preferences for Conformation Attributes and Head-And-Neck Positions in Horses.
Christensen et al. (2014). Effects of hyperflexion on acute stress responses in ridden dressage horses.
Hall et al. (2008). Is there evidence of learned helplessness in horses?
Kienapfel et al. (2014). Prevalence of different head-neck positions in horses shown at dressage competitions and their relation to conflict behaviour and performance marks.
Lashley et al. (2014). Comparison of the head and neck position of elite dressage horses during top-level competitions in 1992 versus 2008.
Rhodin et al. (2009). The effect of different head and neck positions on the caudal back and hindlimb kinematics in the elite dressage horse at trot.
Weiler (2006, 2007) – interviews in Horses for life Magazine.
Von Borstel et al. (2009). Impact of riding in a coercively obtained Rollkur posture on welfare and fear of performance horses.
Zebisch et al. (2014). Effects of different head–neck positions on the larynges of ridden horses.